Executive roles within procurement, sourcing & supply chain management have long lacked diversity as these positions are predominantly filled by white men. This is far from a positive attribute and could be a direct correlation or causation for historically lacking supplier diversity at scale.
Diversifying the role of procurement, sourcing & supply chain is, and should be, on the agenda in many global organizations as a spotlight topic. Supplier diversity programs in the 2020's need to become a new standard within private & public procurement organizations globally.
Defining Supplier Diversity
By definition, a diverse supplier is "a business owned and operated by an individual or group that is part of a traditionally underrepresented or underserved group" (CVM 2019)
Some common examples of diverse suppliers would be small-business enterprises (SBEs), minority-owned business enterprises (MBEs), and woman-owned business enterprises (WBEs). "Over time, the definition of diversity has expanded to businesses owned by other minority groups such as LGBTQ, veterans, and proprietors with disabilities" (HBR 2020).
Supplier diversity should be one of the pillars of your CSR strategy & activities.
It's all about Creating shared value & economic impact at scale.
"Supplier diversity benefits underrepresented businesses, but it also uplifts the communities where those businesses are located through job creation, increased wages, and tax revenue. As small businesses grow, so will a nation's economy. Because most diverse businesses are small businesses, they aid in the economic recovery and sustainability of their communities" (CVM 2019).
Lead with Diversity
As seen in the graphic below from Procurement Leaders, executive roles in procurement have traditionally lacked balanced gender equity.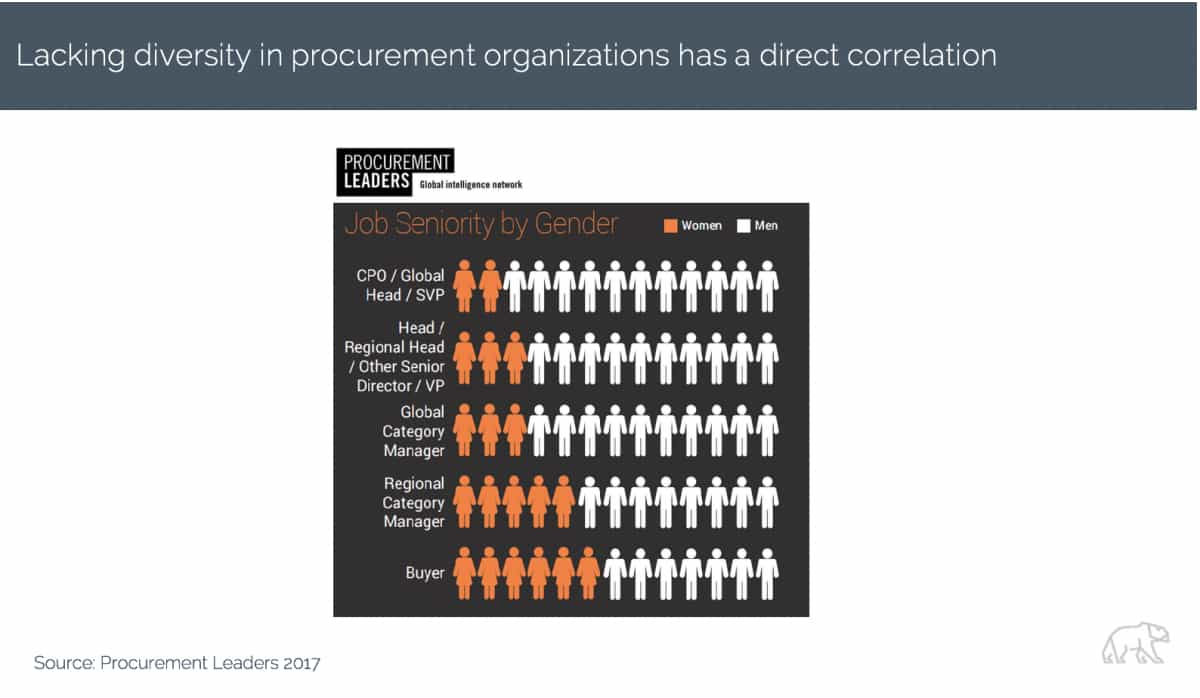 Leading with diversity will require procurement as an industry to diversify from the outside in; beginning with their own teams and scaling that change within supplier networks.
"If we could change ourselves, the tendencies in the world would also change. As a man changes his own nature, so does the attitude of the world change towards him. This is the divine mystery supreme. A wonderful thing it is and the source of our happiness. We need not wait to see what others do."
— Mahatma Gandhi
Be the change you want to see.
On the heels of a year that entailed horrific injustices and acts of terror upon people of minority groups, leading to global demonstrations in support of the Black Lives Matter and Stop Asian Hate movements, it's important that we reflect upon what we've learned about systemic oppression of minorities.
It's time for action. Supplier diversity has always been a 'need to have', and procurement holds power.
One small step for procurement could result in one giant leap for society at scale.
We named Supplier Diversity as one out of 9 Hot Terms in Procurement Everyone is Talking About, read about which ones the others are.
Inclusive Spend
In order to ensure that supplier diversity will create real economic benefits for small and diverse businesses, procurement organizations should aim to put targets on inclusive spending.
Since the introduction of supplier diversity programs in the late 1960s, there has been a historical lack of legislation or enforcement to ensure that corporations in fact spend within their procurement in order to live up to their supplier diversity goals.
"In 1978, the US introduced a federal law requiring companies bidding for government contracts over a certain value to subcontract with diverse businesses… In the UK, the only requirement set by the government is for 33% of spending by central departments to be with SMEs by 2022. Moreover, research by Minority Supplier Development UK (MSDUK), a non-profit advocacy organization, found that only five companies in the FTSE 100 have supplier diversity programs" (Richens 2020).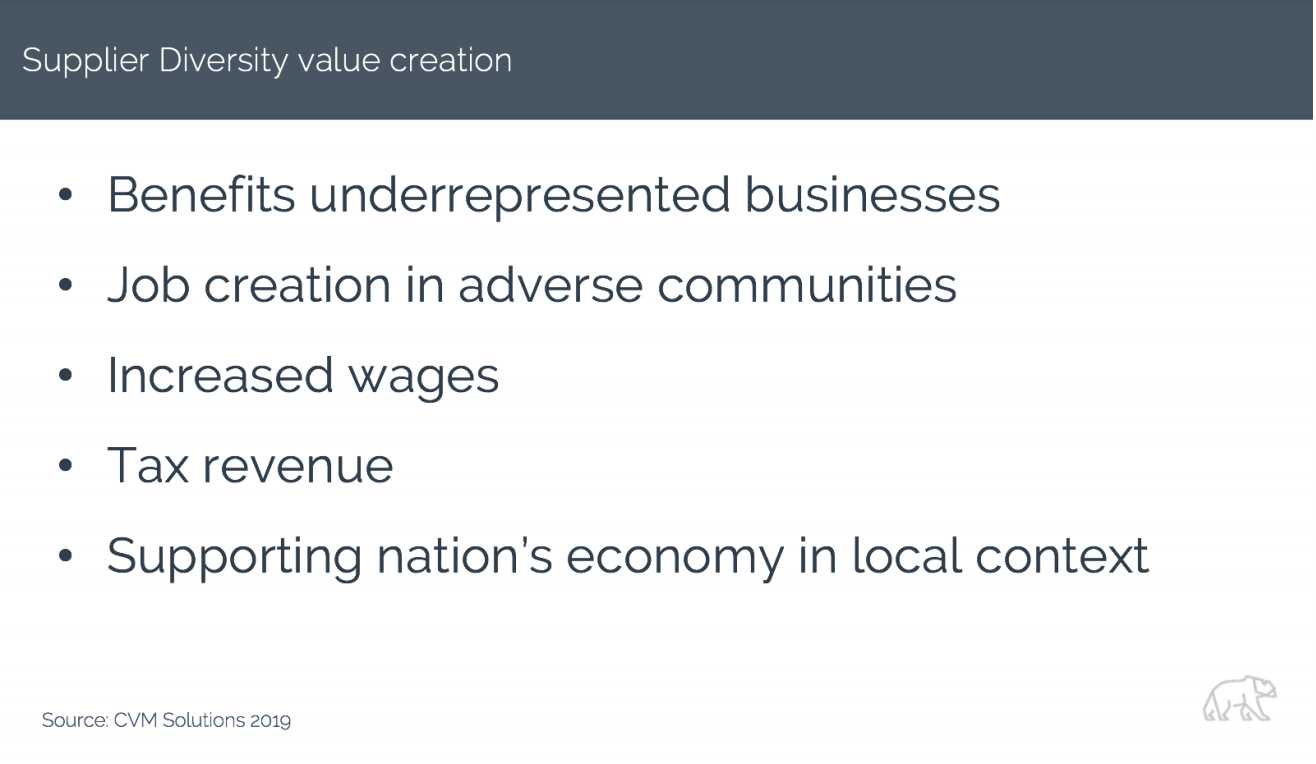 Procurement holds the spend, and therefore the power!
If your procurement team aims to truly implement and adopt a supplier diversity program, then you need to have targets, govern and report upon allotted spend with diverse suppliers.
Onboarding & Governance
Classification and assessment during supplier onboarding activities are one of the key pillars to a stable and impactful supplier diversity program.
Just as you require general business information during supplier onboarding (category, site, contact, spend, employee, tax info) you should require general diversity information.
Governance for diversity in a supplier's own organization & supply chain tiers should be regulated with predefined levels of acceptance criteria. As stated, this is important to be a set standard within onboarding activities and should be a focus in ongoing reporting activities. Just as much as you govern and inquire for ISO certifications and policies within environmental & social responsibility, you should set targets to continuously develop your suppliers' own diversity accreditation and reporting.
Supplier data quality is a challenge in many procurement teams and could be a huge asset, but also a huge barrier within a streamlined supplier diversity program. Early and often is the mode of operating required to gather and maintain supplier data records that display diversity. "This includes … validating current certifications, and tracking bid participation and spend with diverse suppliers. This is important as it enables buyers to match their procurement needs to supplies offered by diverse businesses" (Richens 2020). Check out our Webinar on 7 Steps to Automate Your Supplier Onboarding: From Manual to Magnificent
Teach, Preach and Incentivize
Supplier diversity requires education just as much as it requires empowerment.
Your procurement teams should be prepared to put educational programs into place that are requirements for suppliers to complete in order to learn more about the importance of diversity in a corporate and social context.
Diversity should be a core value; something you teach and preach in your own organization and within your supplier network.
In a 2019 report from CVM Solutions, State of Supplier Diversity — Diverse Suppliers it was found that 89% of diverse-owned businesses are certified as such by an appropriate agency. Certification of diverse suppliers is something that should be promoted, recognized, celebrated, and incentivized.
Make a commitment to diversity
We all know what needs to be done in order to develop and scale supplier diversity programs.
So, time to open the hood.
Procurement must serve as the champion of change if the adoption of supplier diversity will ever surpass the status quo. If you are committed to diversity, you can make a difference.
Supplier diversity is not just a business decision, it's a human decision.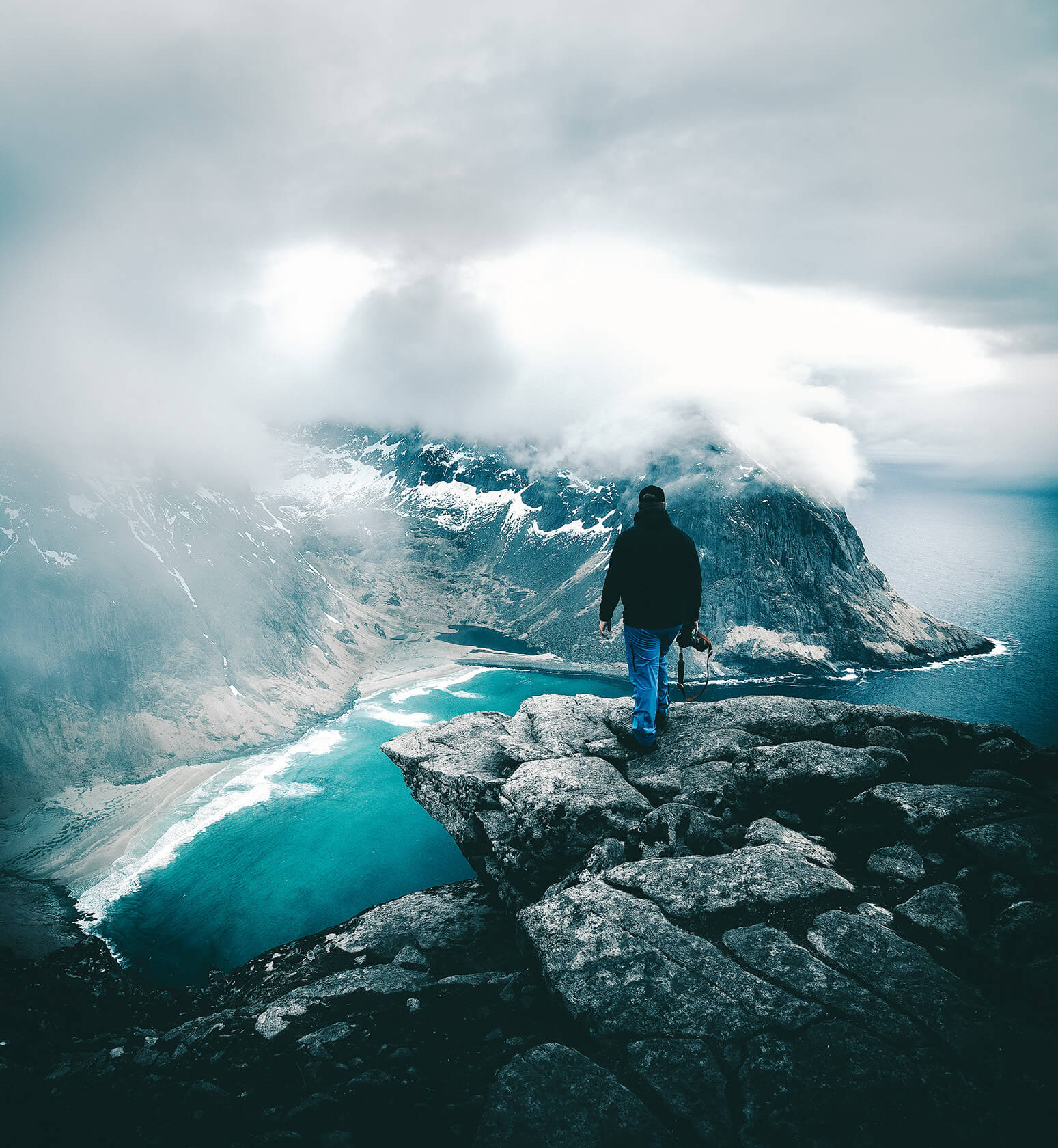 Kodiak Hub
Put your data-driven insights, ratings & analytics to use. Enable collaboration with the right suppliers at the right time to drive supply chain performance.
See all blogs posts