"How can I gain a competitive edge in a congested market? How do I take my supplier relationships to the next level? And what digital tools should I be using to enhance interactions with my suppliers?"
We hear these kinds of questions all the time. Many people are anxious about securing the best possible supplier agreements and ensuring they can boost productivity. But not enough businesses are focusing on how and why supplier collaboration tools can add value.
When the right tools are deployed alongside a well defined buyer-supplier strategy you will be able to maximize the collaborative potential of your supplier relationships.
In this blog, we'll explore exactly why it's so important to collaborate with your suppliers and highlight some of the best supplier collaboration tools on the market today. So, let's get started…
Why is it so important to collaborate with your suppliers?
Why should you bother investing in a collaborative relationship with your suppliers? Won't it just be more hassle than it's worth?
Well, we believe the opposite is true. Supplier collaboration is the key to getting the most out of your supplier relationships and coming up with innovative solutions. Below we've outlined a few supplier collaboration benefits to help you understand how proactively engaging with your suppliers can take your business to the next level.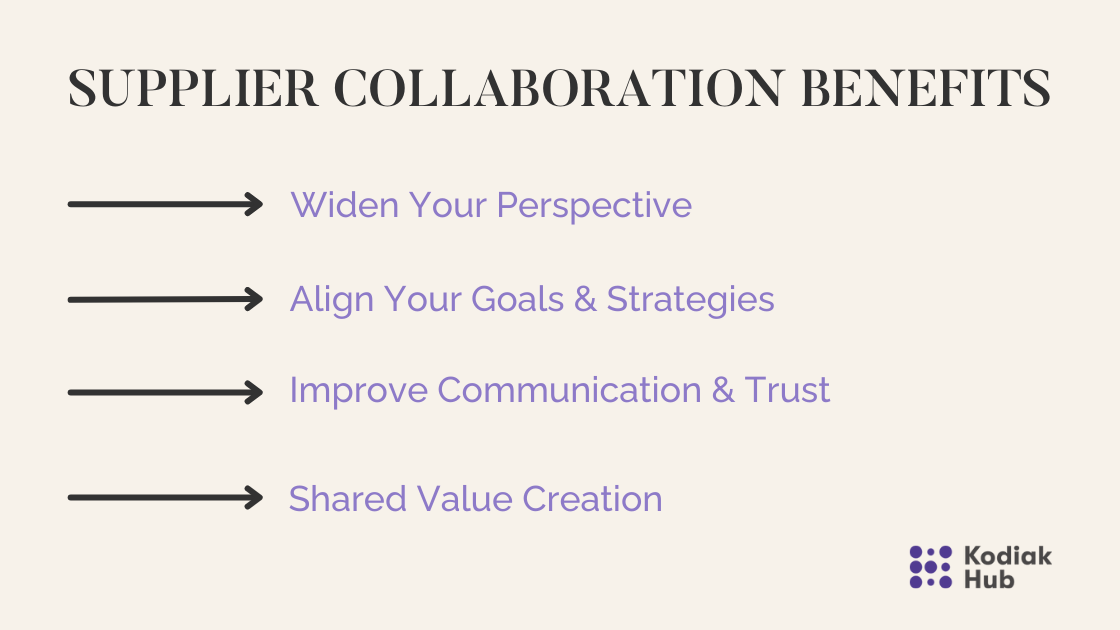 Widen your perspective
Your perspective of the market may be limited by your position in the market. Collaborating with a variety of suppliers that occupy different positions and add new expertise/insights will help you gain new perspectives. This in turn will aid you in designing, marketing and developing products that address the needs of current consumers and businesses.


Align your goals and strategies
Collaborating with your suppliers can help you to pursue mutually beneficial results more often. When you only sparingly talk and collaborate with your suppliers it is easy to become disengaged and unaware of their goals and strategies. Regular buyer-supplier collaboration helps to align the goals and strategies of both parties and ensure that every interaction is mutually beneficial.

In a insightful McKinsey article,

Taking supplier collaboration to the next level,

on the topic of creating closer relationships with suppliers they noted that, "Governance of collaboration projects should be cross-functional, with appropriate incentives introduced throughout the organization to encourage full participation and ensure both parties pursue long-term win-win opportunities, not just short-term savings."



This win-win mentality is easier when your collaboration is robust and both parties understand the purpose and the potential of the relationship. Here is where great supplier collaboration tools can make a big difference.


Improve communication and trust
Productive buyer-supplier relationships are built on transparency. For example, cosmetics company L'Oréal runs

an annual "Cherry Pack" exhibition where they offer their suppliers a

preview of the consumer trends

that the company will be focused on in the coming months. This exhibition is a trust-based forum that encourages suppliers to present ideas and get involved in discussions.



Ultimately, this open style of communication with your suppliers will allow them to understand your needs and your goals. This trust-based approach will enable suppliers to have access to both short and long term ideas that will help to accelerate discussions, negotiations & SEI (supplier enabled innovation).


Shared value creation
At the center of any healthy buyer-supplier relationship is the concept of shared value. For example, ASML

, a lithography-equipment manufacturer for the semiconductor industry, operates an incredibly effective value-sharing mechanism for its suppliers.



"ASML allows suppliers to maintain healthy margins, provides financing for the infrastructure needed to make its products, and offers staggered purchase guarantees. In this way, ASML incentivises and rewards its strategic suppliers for prioritizing its business, gains access to cutting-edge technology, and reduces costs and improves stability in an industry with short life cycles affected by substantial swings in demand."(Loder, 2021

)



Shared value creation is a great reason to up your collaboration game. Buyer-supplier collaboration is a fantastic approach that allows both parties to share innovation and boost the collective creativity within your industry.
What are the best Supplier Collaboration tools?
So you want to put these ideas of supplier collaboration into practice? What kind of tools can you use to achieve this?
In the past, the decision to collaborate with your suppliers may have been made quite lightly. You may have used your existing communication and administration tools to achieve this collaboration. These tools may have been separate and they probably weren't built-for-purpose as buyer-supplier collaboration solutions. Today everything is much more connected and you can now take a holistic approach to supplier collaboration.
Companies, like Kodiak Hub, offer a suite of tools that can all be accessed via, or paired with, a sophisticated buyer-supplier collaboration portal. These include:
Risk Assessment tools
Performance evaluation
Media Monitoring tools
Financial Assessment & Credit Rating tools
Supplier Onboarding & Self-Assessment tools
On-Site Audit Application
To get the most out of these tools it is often best to use them in tandem. This will grant you a complete view of your collaborative efforts with suppliers and maintain your relationships for an extended period of time.
At the core of these supplier collaboration tools is a desire to provide actionable insights, gain industry knowledge, come up with innovative solutions and make your collaborations purposeful.
How Kodiak Hub enables collaboration in buyer-supplier relationships
We know that collaboration is key to the success of any modern enterprise. And this is where Kodiak Hub can lend a helping hand.
One of our favorite things to do is bring smart, motivated people together to create something inspiring. Our cloud-based Supplier Relationship Management platform is an easy way to boost your relationship with quality suppliers. We have a dynamic buyer-supplier collaboration portal that encourages authentic and sustainable relationships. This portal allows our users to put risk and performance intelligence to work; leveraging actionable insights to create impact in supplier relationships.
It's all too often that manual comms, document sharing and process management is managed with homegrown solutions. This mode of operation makes for a lot of manual tasks and risks human error. Supplier Collaboration solutions can help you to centralize information, documentation, and intelligence; making your SRM activites more process dependent and less person dependent.
You can't do everything on your own! It's time to start using the best and most modern supplier collaboration tools to kickstart innovation, streamline your processes and gain a competitive edge.
To learn more about the value of modern supplier collaboration read our blog on the 4 Must Knows to Increase Supplier Collaboration and Innovation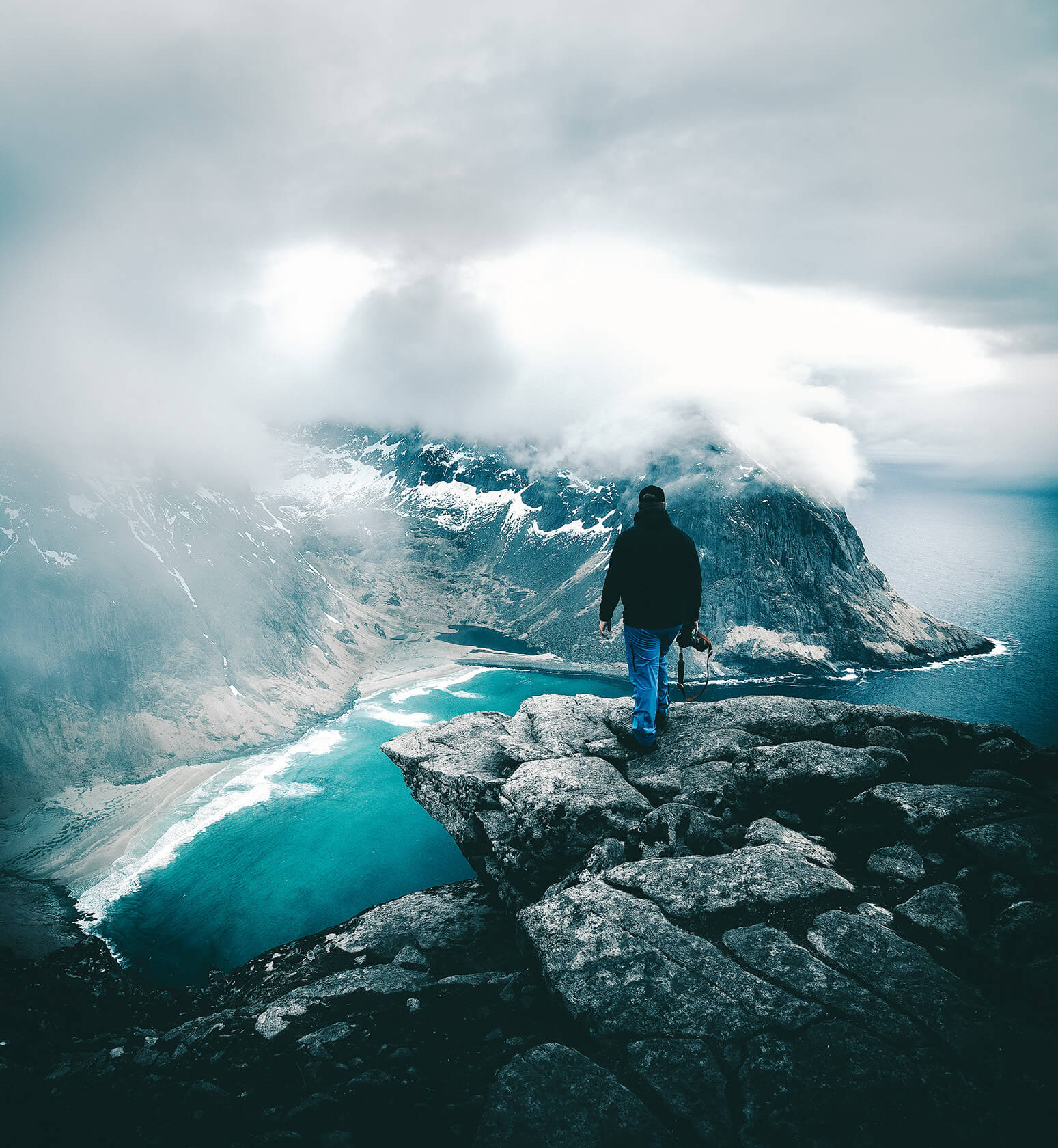 Kodiak Hub
Put your data-driven insights, ratings & analytics to use. Enable collaboration with the right suppliers at the right time to drive supply chain performance.
See all blogs posts