There are many benefits of automating your supplier onboarding. But, there's little you can do to automate bad processes. In order to automate your supplier onboarding, you first need to define and refine your practices with which you can build a smarter onboarding process.
Once you have a good process, it's time to automate it!
It all starts with A first impression.
You don't get a second chance to make a good first impression.
It's important to have a supplier onboarding process and activities that leave a positive first impression on your suppliers.
Supplier onboarding is a widely adopted method for collecting perspective and existing supplier information. To assess vendor compliance and risks as well as an opportunity to swiftly integrate suppliers into your operations.
As our team at Kodiak Hub has recognized, during our years as a supplier relationship management (SRM) solution provider, onboarding can be a real pain or a real pleasure. Automated supplier onboarding offers businesses various benefits.
A few of those benefits are listed here:
Integrate suppliers into your core business fast
Spot potential risk suppliers, to safeguard brand value
Identify opportunities for collaboration and innovation
Align on core competencies and values
Ensure supply chain compliance
Measure supply chain sustainability
As we know properly managed supplier onboarding aided by modern tooling can make sure to give your company and your suppliers a jumpstart on your buyer-supplier relationships.
This can prove to be incredibly valuable in the long run when mundane and manual tasks are made simple. You'll realize how much more time you and your team have to conquer more audacious tasks, like driving supplier performance and managing development- or excellence projects in order to drive top-line value.
Unfortunately, traditional means of supplier onboarding like homegrown solutions or excel based solutions can be very time-consuming, which is what we're trying to change here today.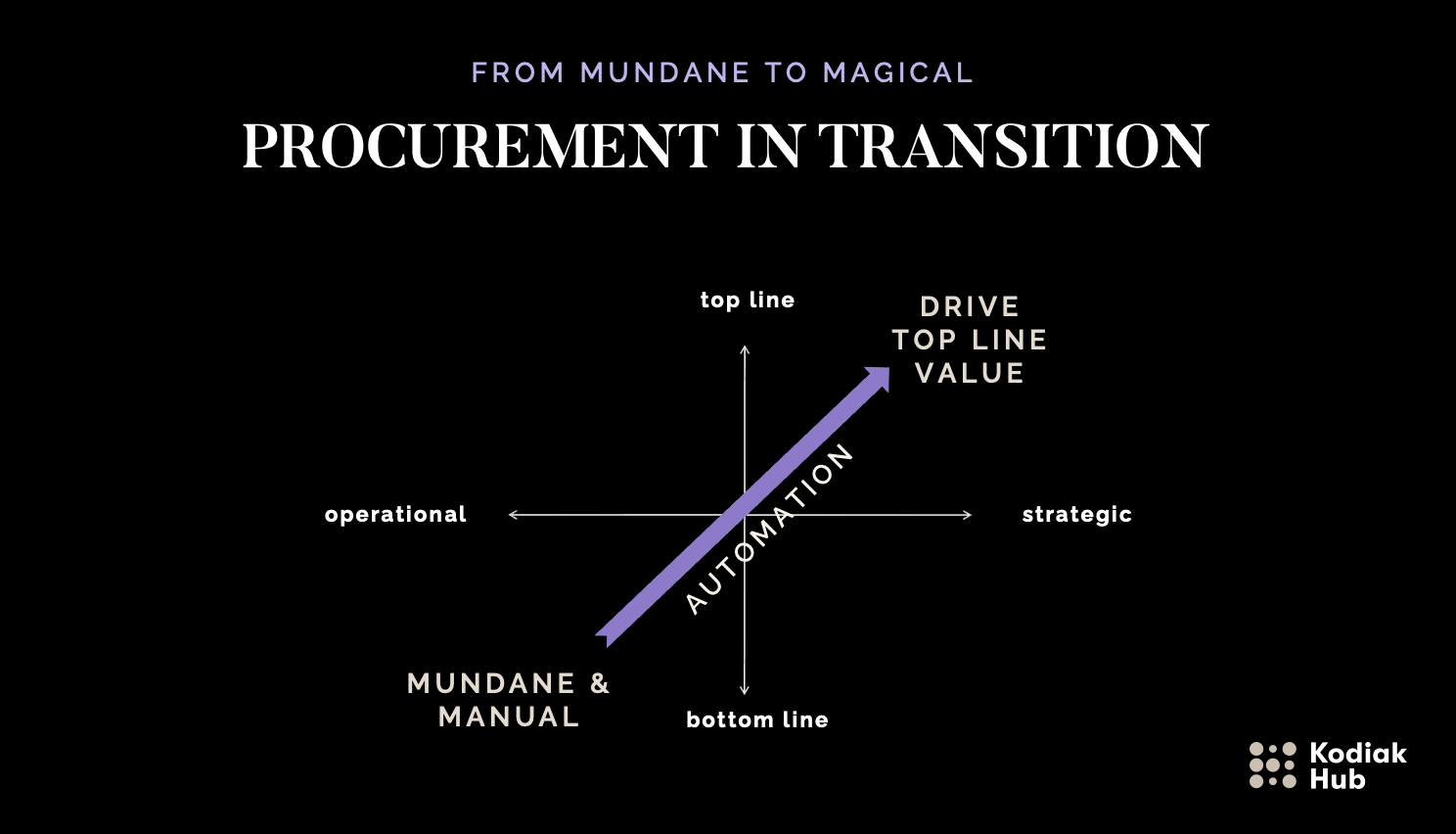 As we've seen at Kodiak Hub, the entire end-to-end process of supplier onboarding often takes anywhere from three to four weeks with a traditional means of tooling. With the right tools and engagement from suppliers, as well as from internal stakeholders, modern solutions can cut this down to anywhere between three to four days.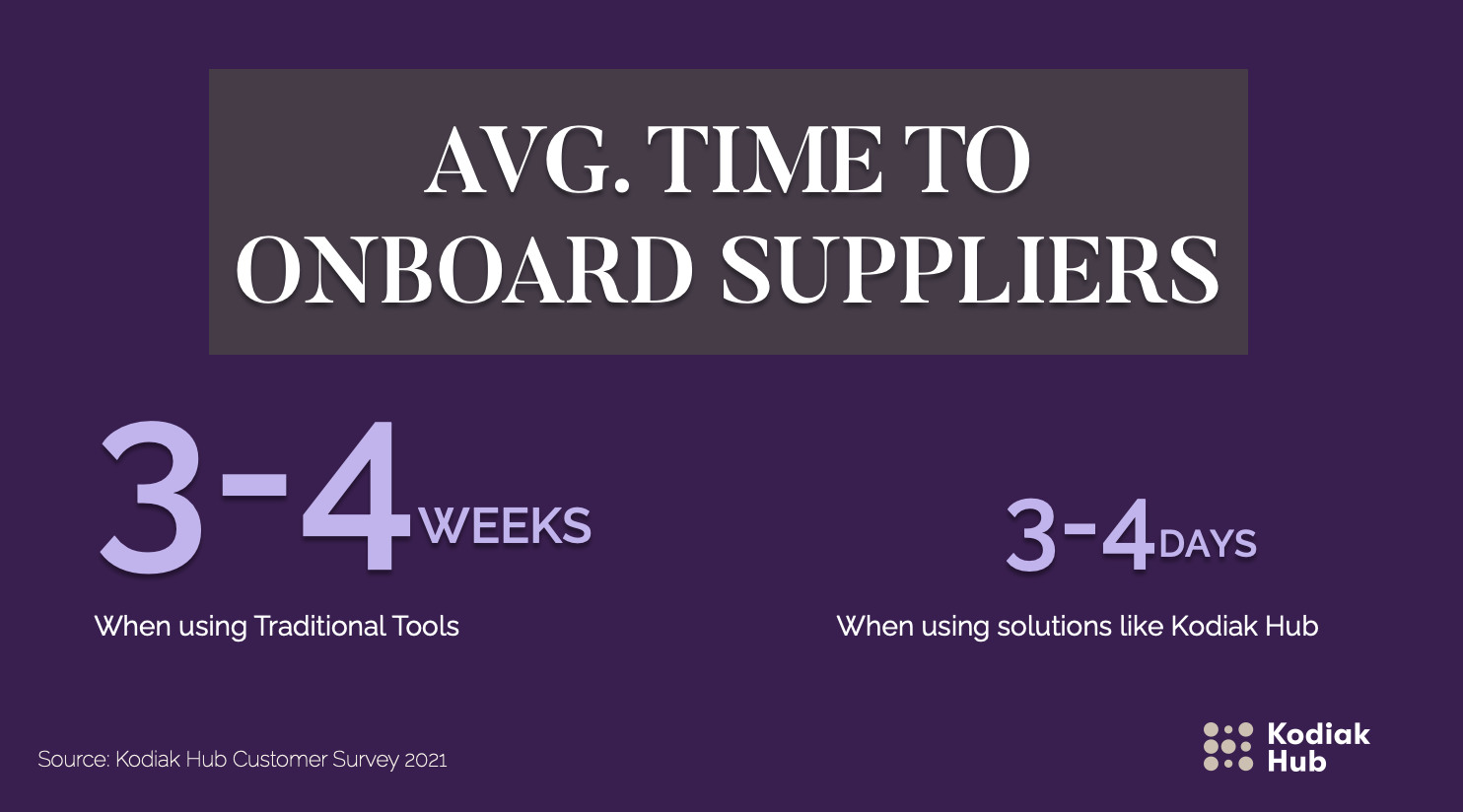 BUT HOW?
If you're struggling so much today, how is it that we can help you to do it so much faster?
Well, we found that automated supplier onboarding is best achieved by leveraging BPM - Business Process Management, mixed with RPA - Robotic Process Automation.
These two technologies, applied in parallel, help us drastically speed up your ability to onboard your suppliers.
Let us help to quickly define these two disciplines so that we're all on the same page as to how they can help automate your supplier onboarding.
"Business Process Management is an approach to streamlining business processes for maximum efficiency and value. It is an in-depth look at how processes are operating. BPM does this by identifying areas for improvement, and building solutions – usually from the ground up. BPM is about making sure the infrastructure of your business processes are solid" (UIpath.com)
Simply put; BPM requires a definition of the process, stakeholder alignment, and application of change management to see an improved output.
"Robotic Process Automation is an application of technology, governed by business logic and structured inputs, aimed at automating business processes. Using RPA tools, a company can configure software, or a 'bot' to capture and interpret applications for processing a transaction, manipulating data, triggering responses, and communicating with other digital systems." (cio.com)
This may sound very complex, but RPA can really just be viewed as a simple rule-driven process to mimic human activities: automated by technology.
As the old saying goes:

Crap in, crap out
Like we said from the start of this resource… you can't automate bad business processes. So before we dive into the 7 steps to automate supplier onboarding, let's discuss the:
6 steps you need to take in order to define and refine your onboarding process:
Step 1 - Initiate a process gap analysis - understand how you work today and how you'd like to work in the future, This will help you to quickly identify which stakeholders are involved in your current supplier onboarding process and at which places in the process there is heavy manual intervention needed.
Step 2 - Align stakeholders - this may be the toughest part of any process or project development. Multiple teams have expectations and are greatly impacted by supplier onboarding. Responsibility ultimately falls on procurement/sourcing teams to get things right, but make sure you align and capture stakeholder requirements from quality, sustainability, finance, marketing, and others.
Step 3 - Clarify Expectations - what data do you need from suppliers? What will your customers expect you to report on? How will you communicate to suppliers the importance of onboarding? Make sure you work with clarification of expectations before you start engaging your suppliers with those expectations.
Step 4 - Map your ideal Onboarding process - After understanding what areas of the process need to improve, which stakeholders need to be involved, and what expectations you have on your team and your suppliers, you're ready to take a shot at mapping your ideal onboarding process
Step 5 - Adopt Modern Solutions - There are a plethora of out-of-the-box solutions out there, including Kodiak Hub, that can help you to improve your supplier onboarding process. No reason to get stuck in the comfort zone of excel and homegrown solutions.
Step 6 - Compromise and Change - Creating bespoke solutions are great, but they're not always optimal. You need to be ready to find best-fit solutions and compromise on your ideal. Out-of-the-box tooling will likely never be 100% fitting to your needs, but as long as you address digital transformation with a willingness to change and an attitude that inspires change in your organization then you'll be able to drive automation.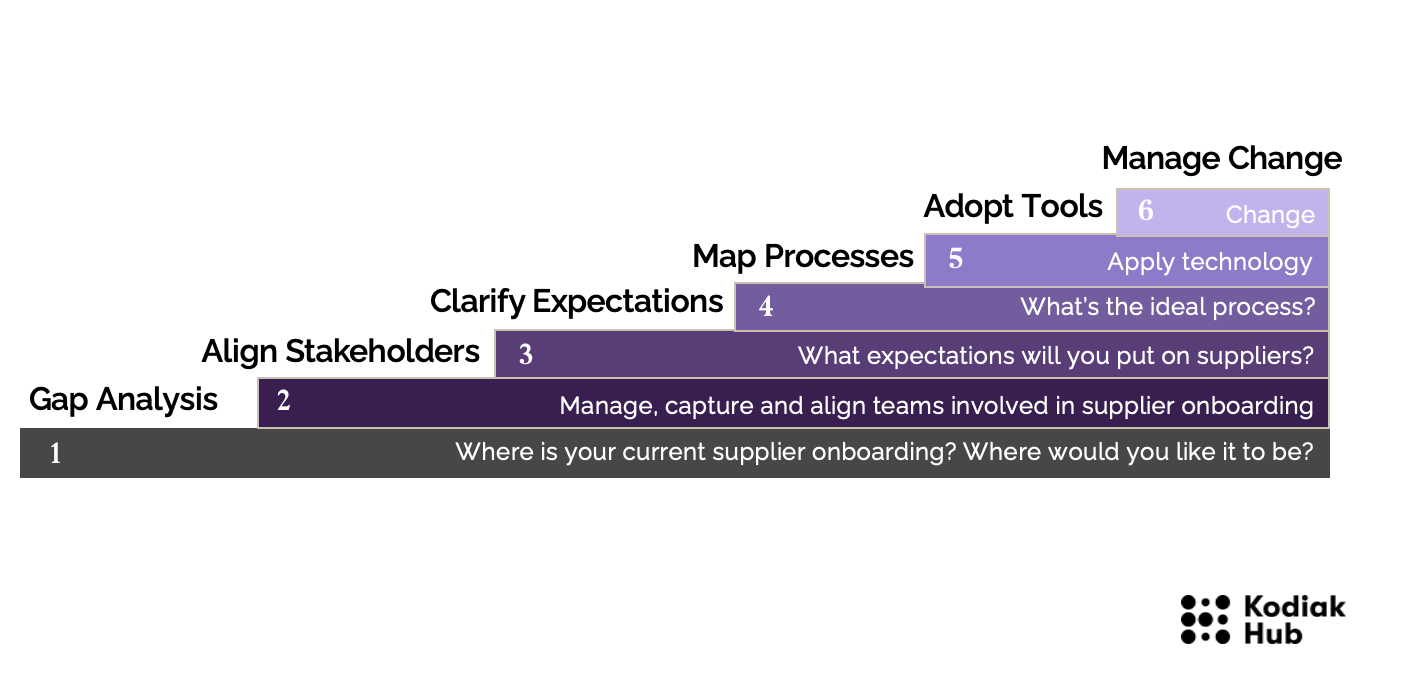 You have to crawl before you ball.
Now that we're on our feet and picking up some pace, it's a good time to dive into the meat and potatoes of this eBook;
The 7 Steps to Automate Supplier Onboarding:
Step 1 - Supplier Information Management
Our team at Kodiak Hub has the pleasure to speak with hundreds of procurement teams on a yearly basis.
We know that supplier data quality isn't always quite as perfect as one would hope.
That's why it's important to adopt modern solutions that can aid you to see where there is missing data, segment and classify your supplier data and improve upon systematic supplier information management.
Getting out of your spreadsheets and homegrown solutions will help:
Improve data quality

Reduce duplicates

Improve supplier data stewardship
While API integrations can be implemented to ensure cross-application supplier data quality, APIs should always be the target. When adopting SRM solutions, uploading supplier data is often as simple as an excel upload. Cleaning and segmenting supplier data is a valuable exercise that can help you recognize what data you have, what's missing, and what supplier data and information are desired.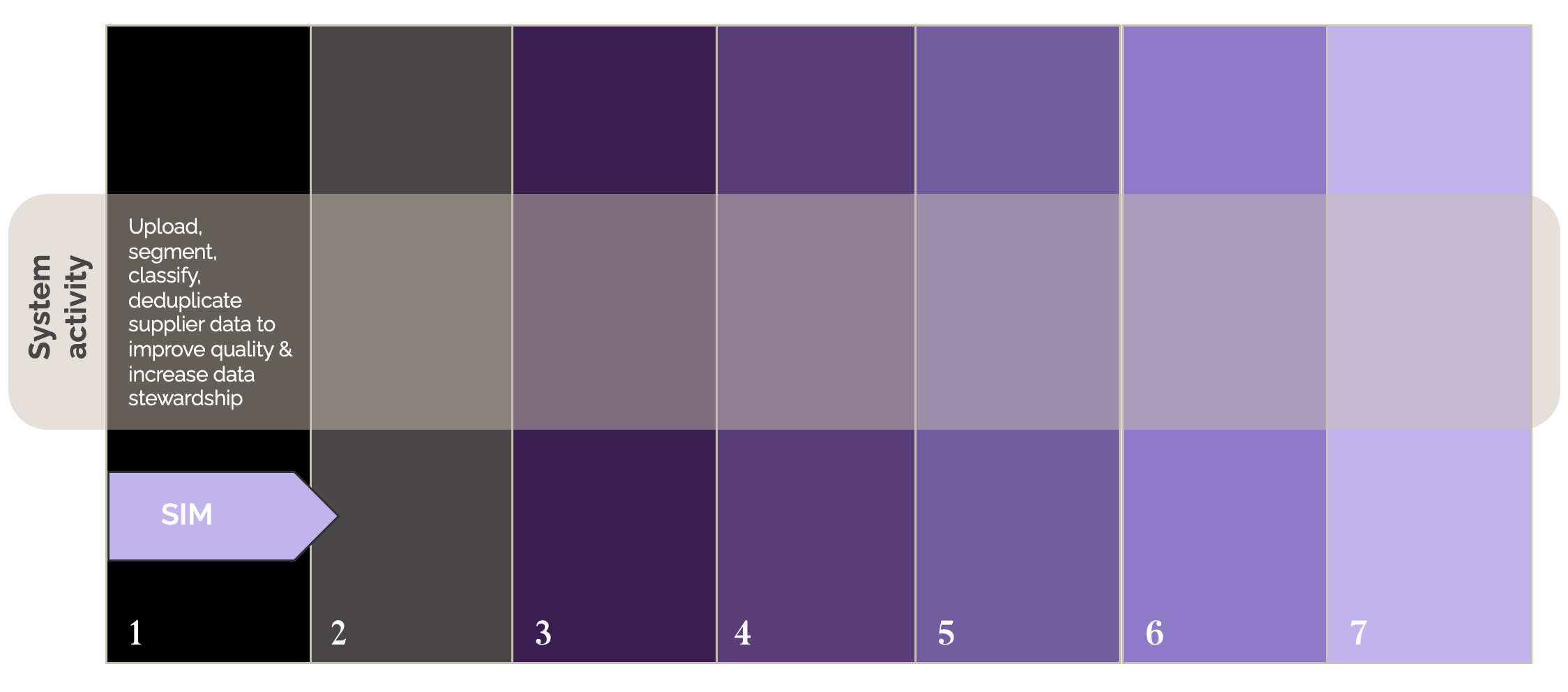 Step 2 - Issuing a Supplier Onboarding Request
While supplier data quality is important, it's equally important to be able to push SIM to your suppliers within self-service portals.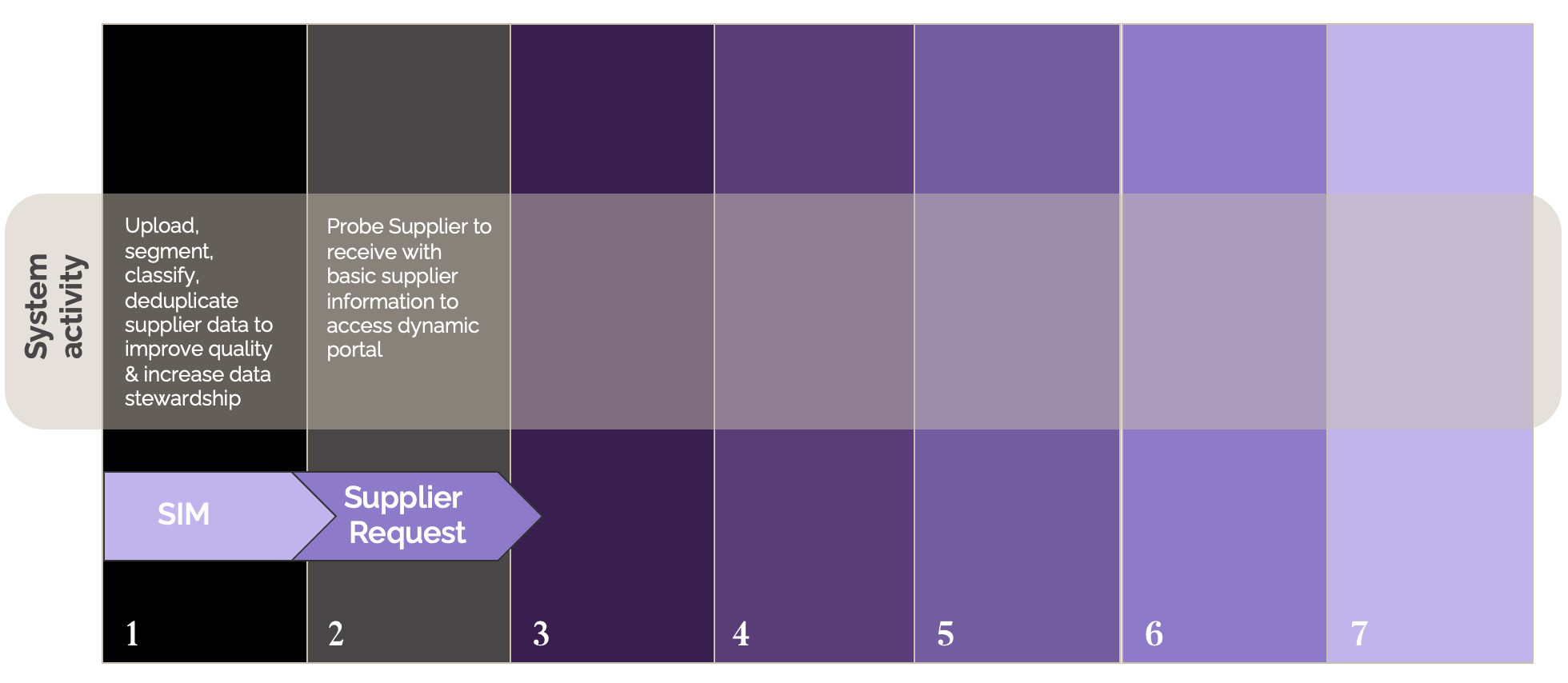 Kodiak Hub's solution requires 4 data points: Supplier ID, Supplier Name, Supplier Contact Email & Supplier Country.
By uploading these 4 data points you have a basis to start issuing supplier onboarding requests.
Self-service interfaces allows our users to easily gather back basic supplier information (such as DUNS number, VAT/UK company number, Tax information, Diversity Classifications, contact details, product information, payment terms, bank details, financial results and so much more). This is the exact same kind of functionality that can aid in easily gathering back more specific documentation and data to support ESG reporting and overall supply chain compliance.
Suppliers are able to access onboarding requests via their email, using one-time encoded safe HTML links to enter into dynamic portals. No login is required, which removes the barrier to responding.
Step 3 - Supplier Response
The self-service supplier response is best managed through solutions that provide suppliers with an easy-to-use and easy-to-understand interface and user experience.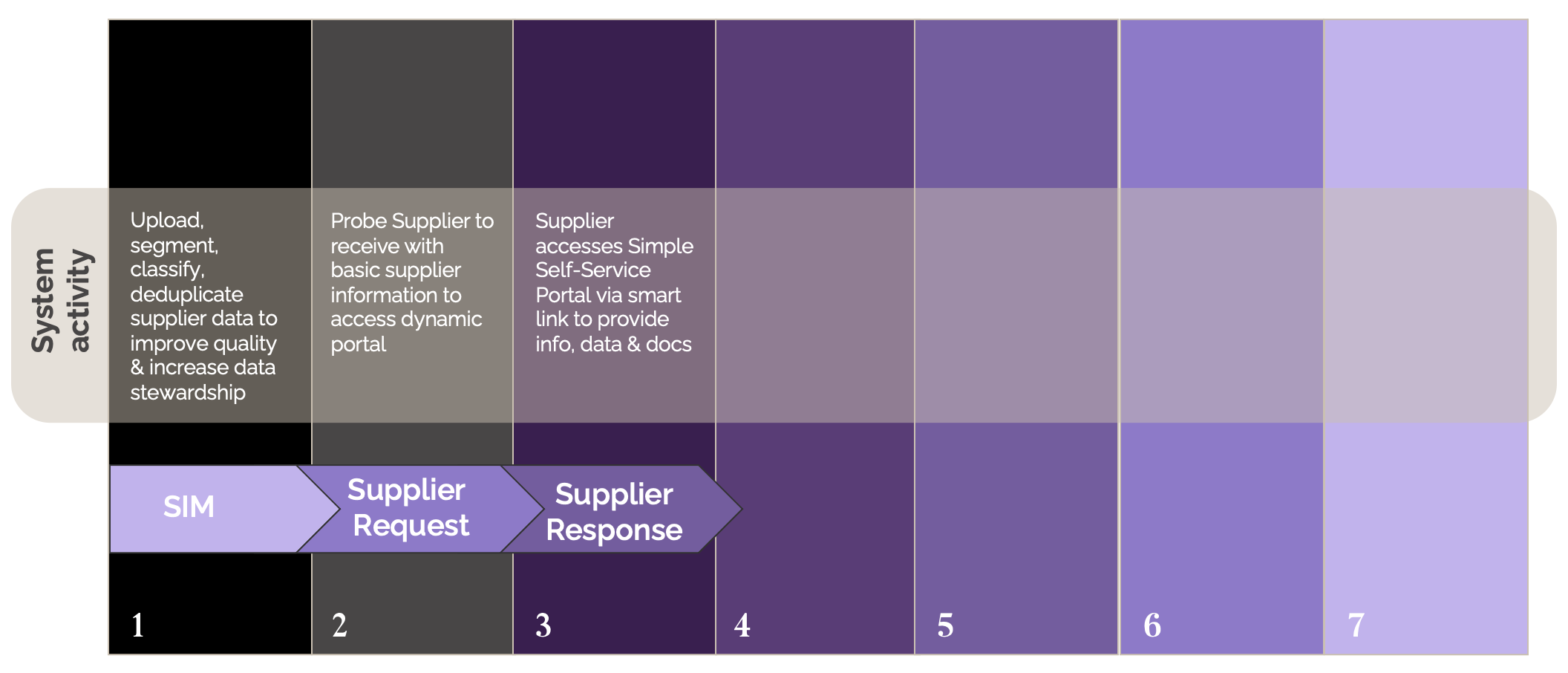 Kodiak Hub believes that the supplier experience is equally as important to the successful use case of our SRM solution as is the procurement or sourcing user experience.
Supplier Experience in an Excel Spreadsheet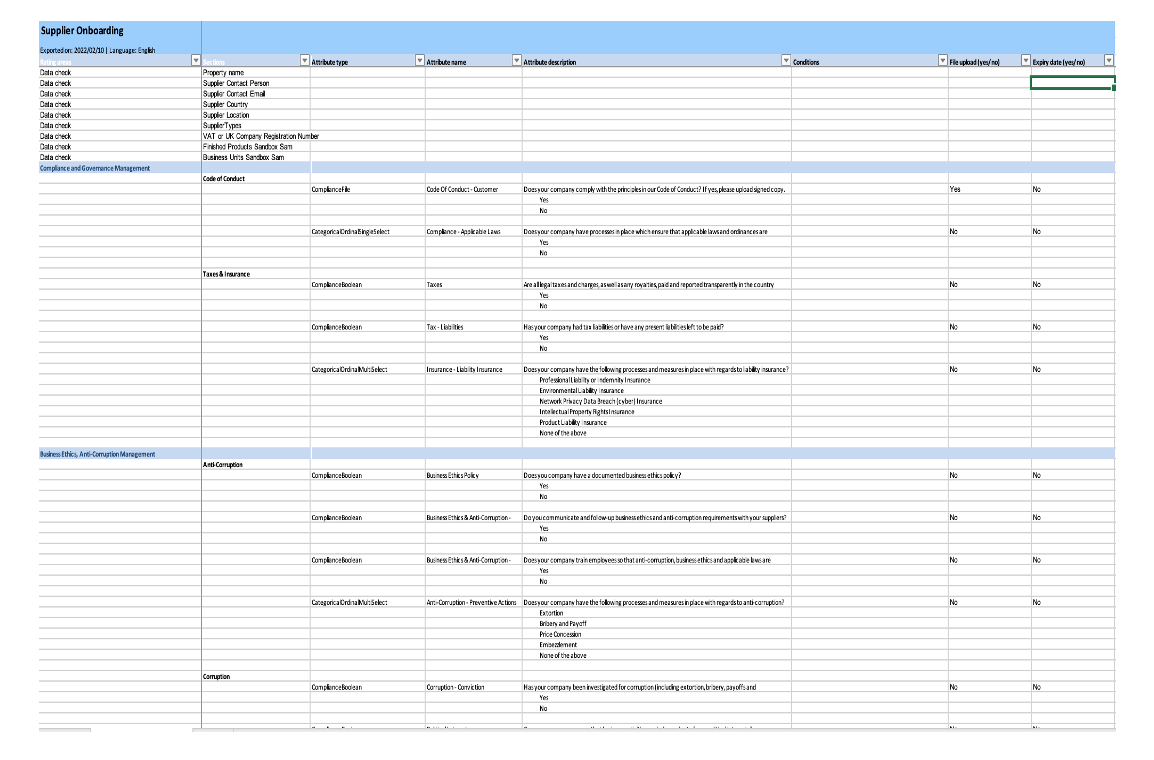 The Supplier Experience in Kodiak Hub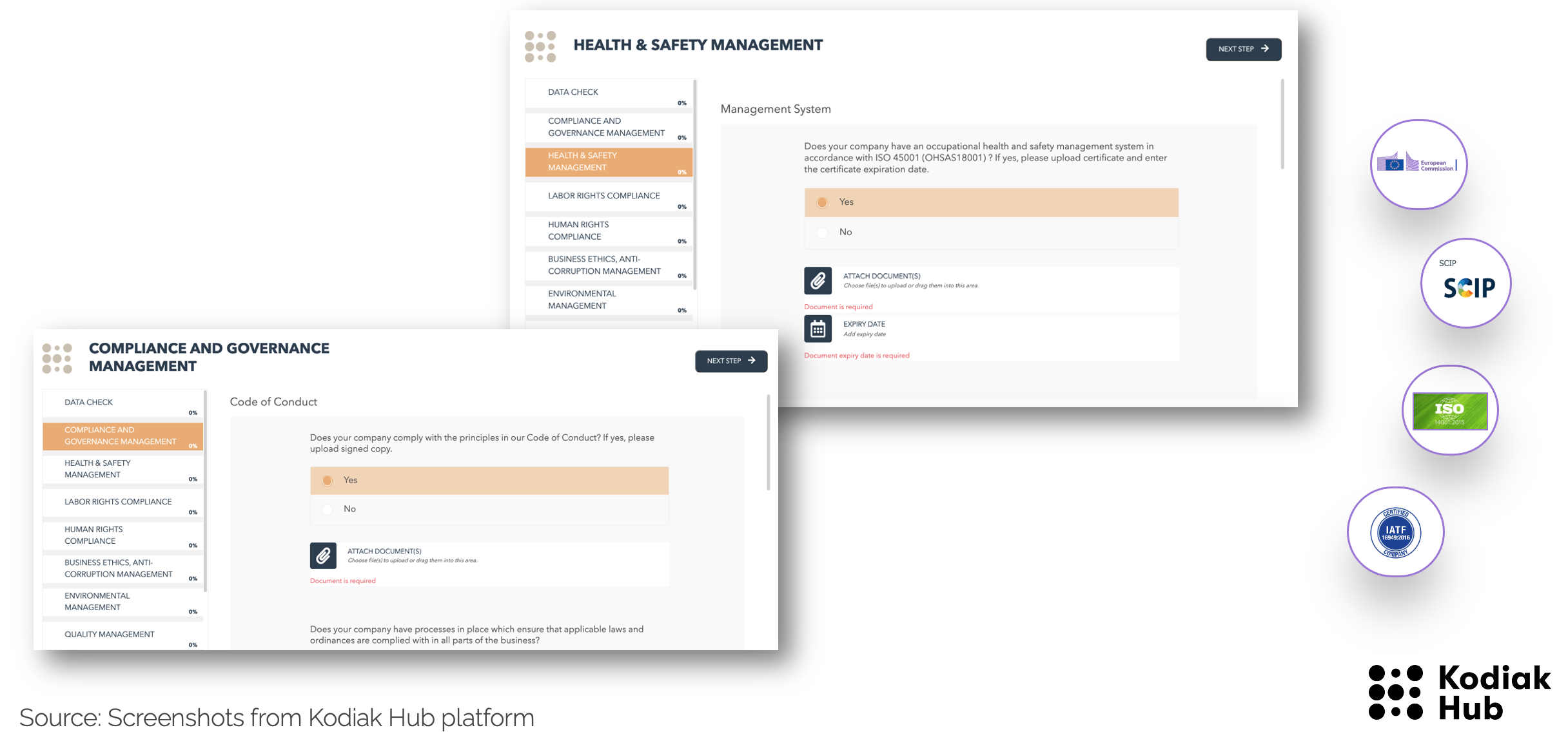 Supplier Information management/data checks, and responses required on compliance questions are made very clear for suppliers.
Status bars allow suppliers to know where they are in their response. Required documentation can be clearly marked as mandatory, as can expiry dates to properly reposit documentation and trigger automated notifications in the future for Kodiak Hub users.
Autosave ensures that the supplier can enter and leave the response portal as needed. Smart link functionality allows the supplier to easily share response duties w/ other team members.
Scheduled reminders take the pressure off the user for having to hunt down supplier responses.
Press Submit, and poof. You've registered your supplier… or really your supplier has registered themselves!
Step 4 - Know Your Supplier (K-Y-S) Insights
Supplier self-registration is leveraged to quickly gather initial supplier information - contact details, website, tax information, bank information, payment terms, VAT, company or DUNS number, CoC, ISO certs, policies and so much more information, data and documentation can be gathered.
The question is… can this information-gathering exercise be leveraged to help you Know Your Supplier?
Simply put… Yes.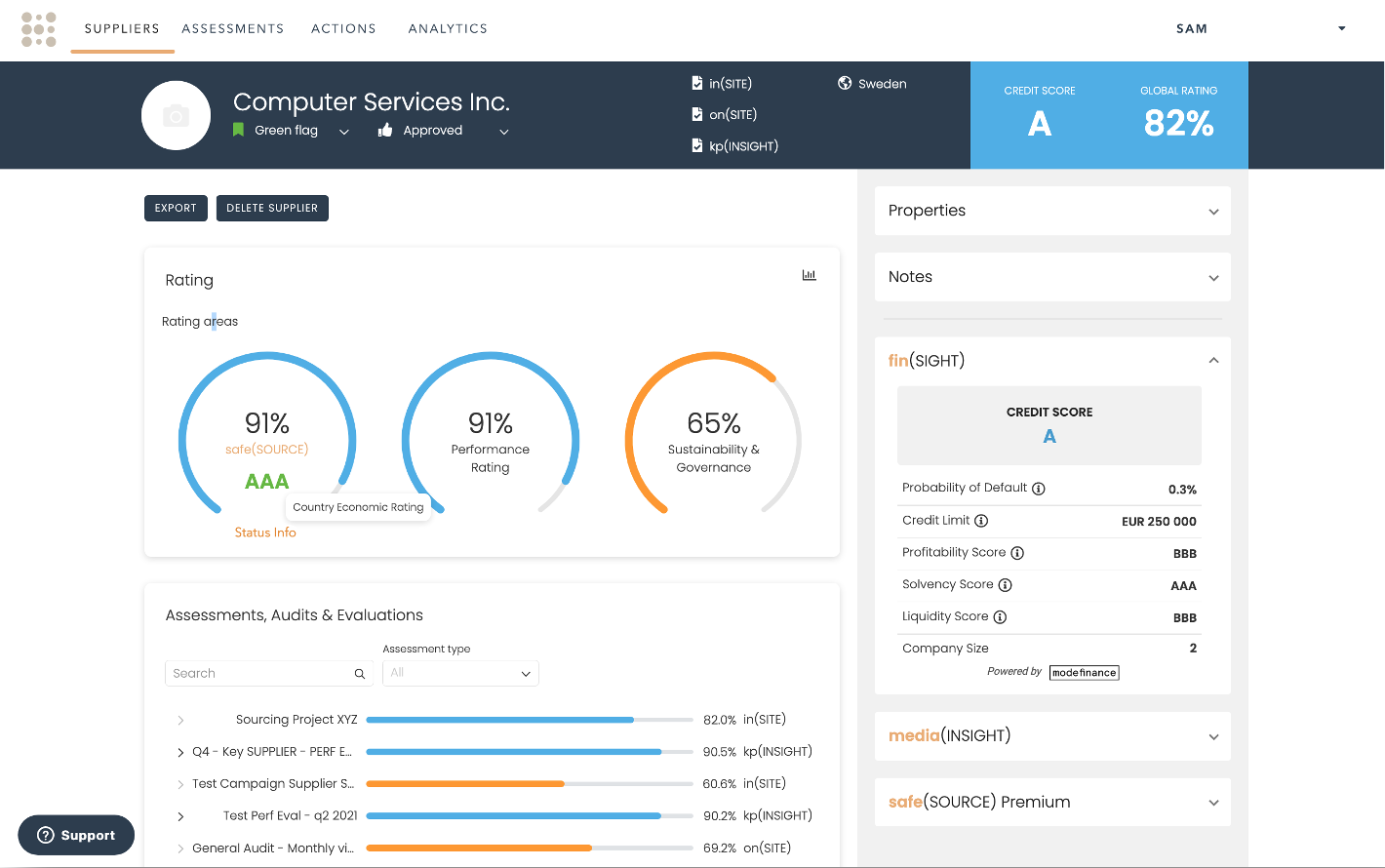 Kodiak Hub's solution pulls basic supplier information and data shared by the supplier themselves, to build instant supplier risk profiles.
A supplier name can provide instant media, sanction, or PEP insights.
A supplier's VAT or Company registration number can provide instant financial credit rating, and the supplier country code can provide instant macro risk insights.
It's difficult to inspire supplier engagement. That's why our team believes that it's incredibly important to double down and leverage automated supplier onboarding as an opportunity to not just build upon your supplier data, but start to build upon your supplier trust.
Step 5 - Evaluation
Again, Kodiak Hub is a big believer that information, data, and documentation shouldn't just be gathered from suppliers for the sake of data gathering, but should be utilized as the foundation to build deeper sourcing intelligence.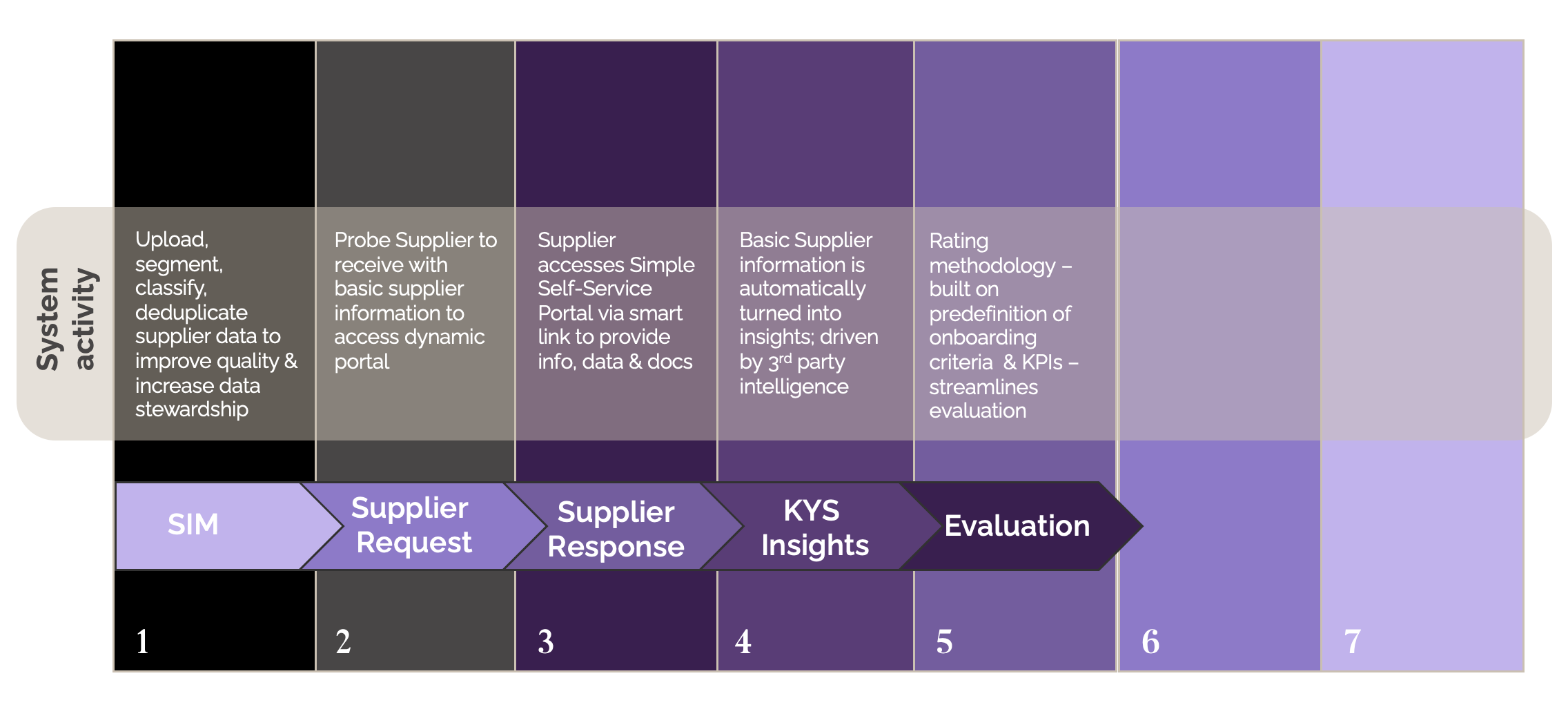 Kodiak provides and suggests the utilization of a rating methodology to turn basic supplier information into buying intelligence.
A simple rating methodology makes supplier evaluation, comparison and approval simple.
Ratings provide team members with a quick and easy view of risks and opportunities
associated with suppliers, but also provide the capability to dive deep into individual evaluation criteria when needed.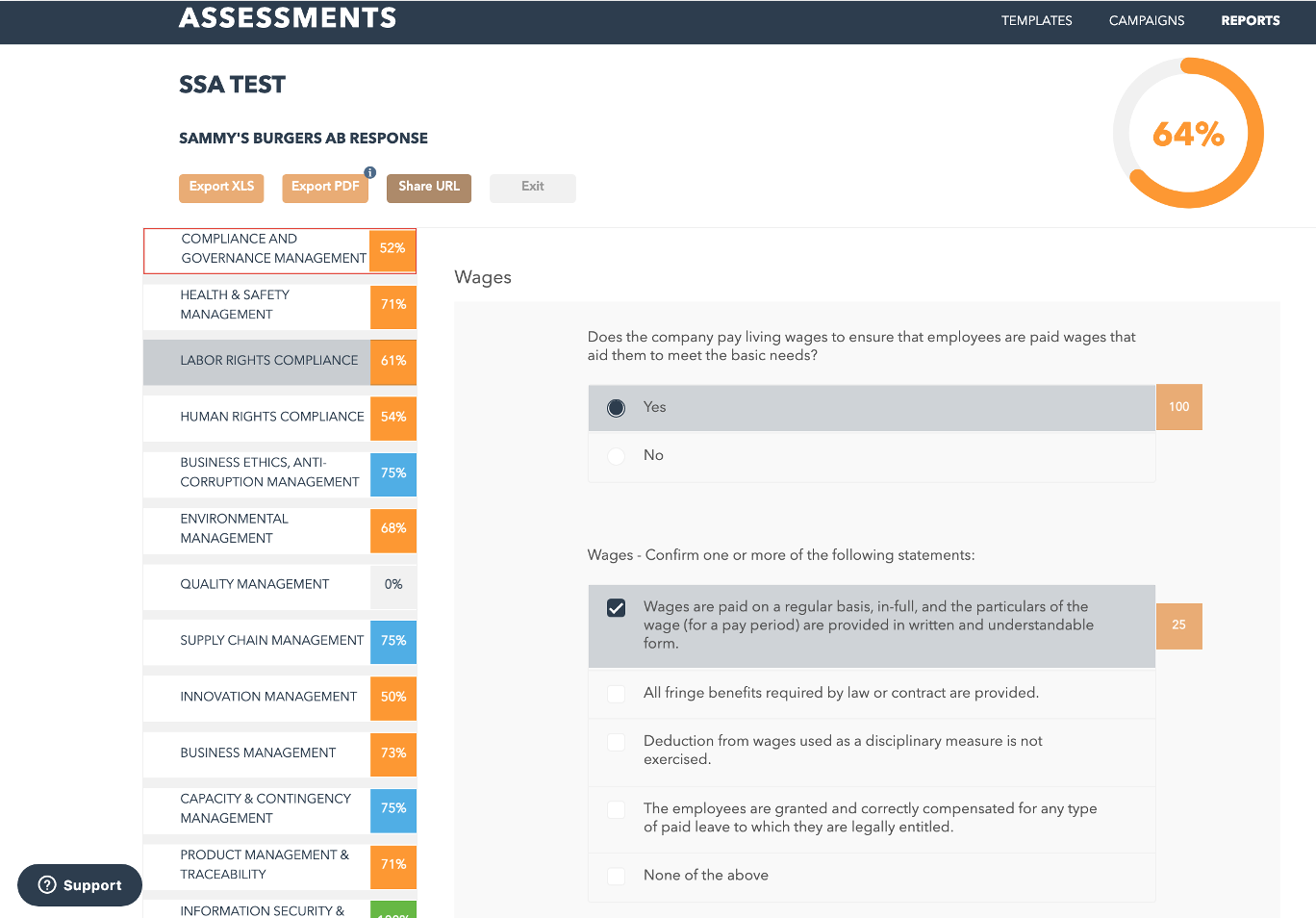 Step 6 - Approval
Notifications and/or simple approval workflows aid teams to streamline supplier approval.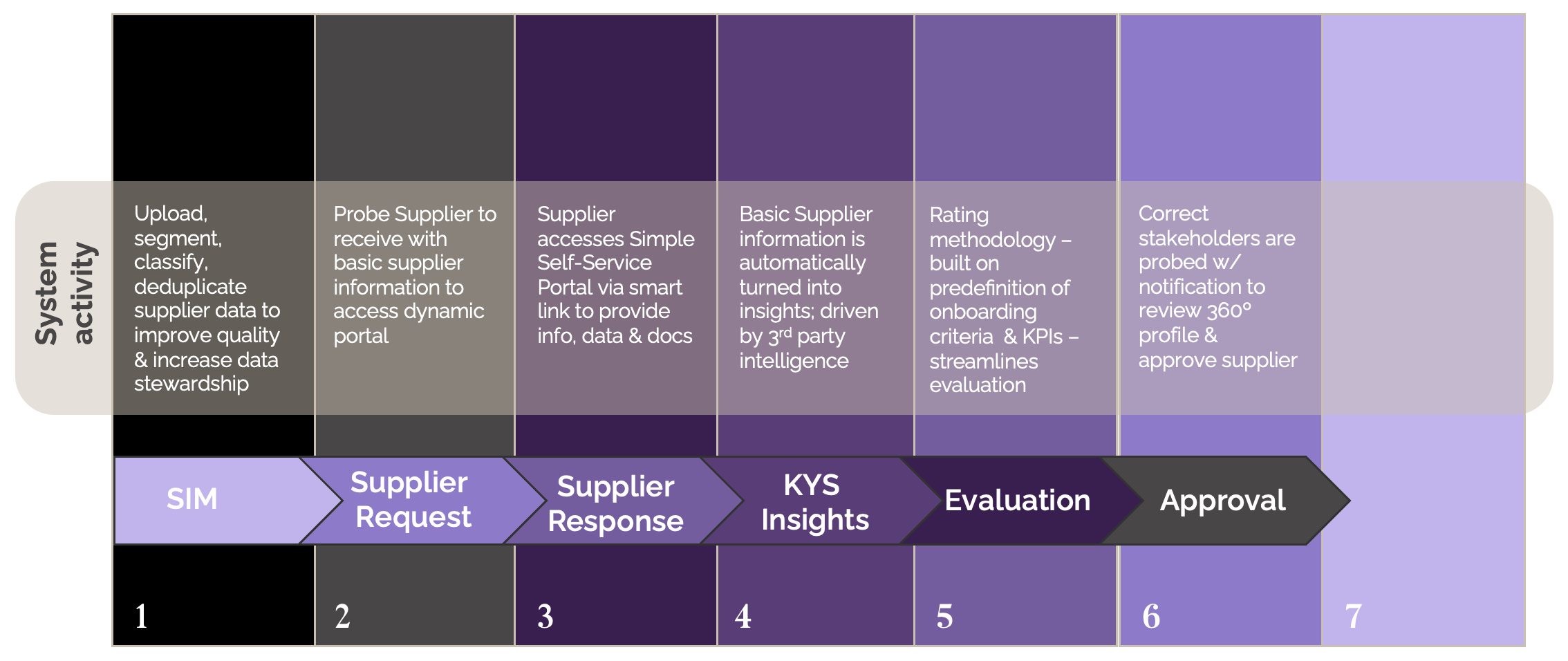 360º views of Supplier Profiles can be leveraged during the onboarding process to quickly approve or disapprove a supplier. It's Great for ongoing governance as well!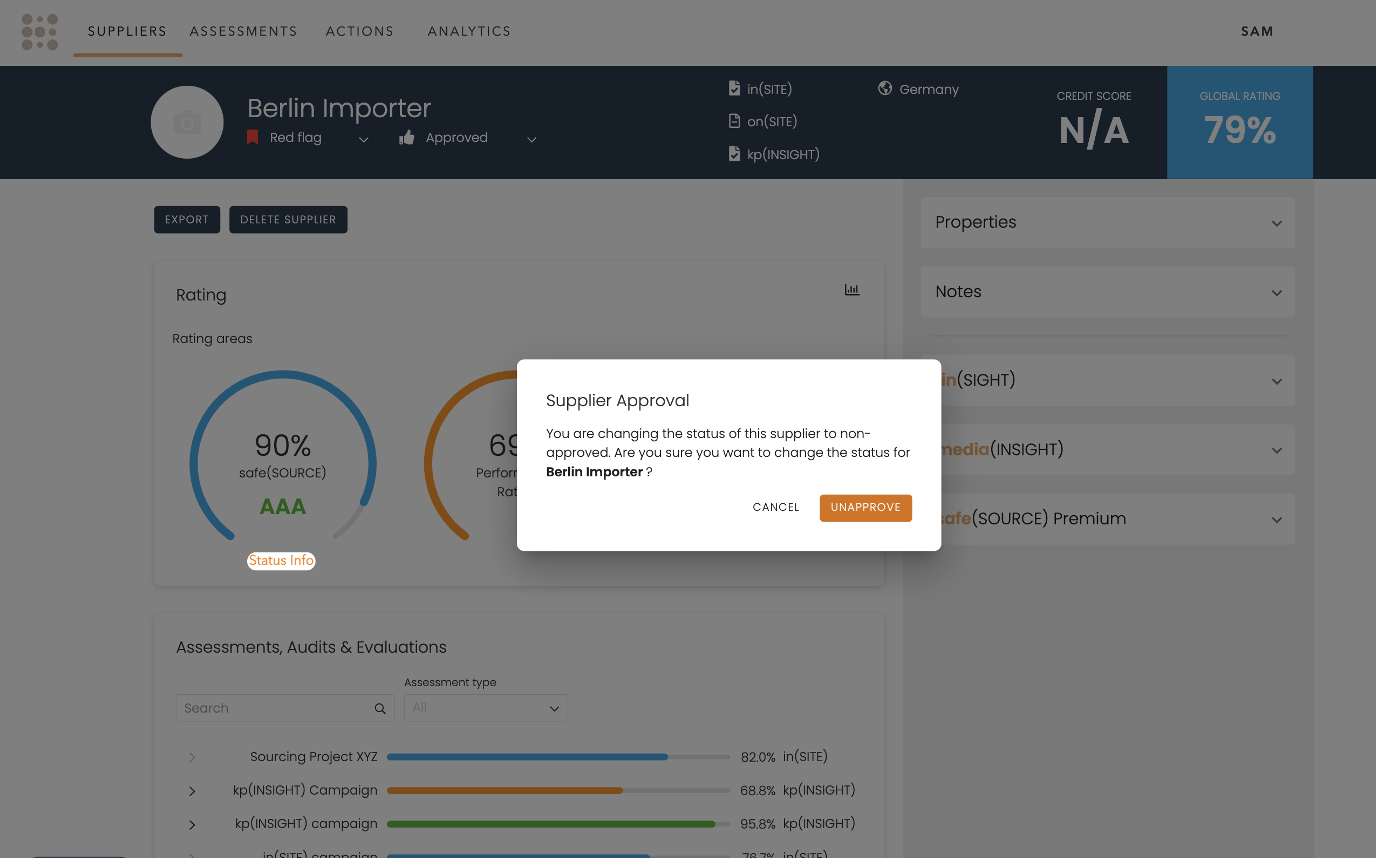 By leveraging modern solutions, the approval process can be a lot more streamlined and robust. 360º insights about a supplier's risk profile will make approval a whole lot simpler for internal stakeholders.
Scorecards or supplier profiles centralize the view of a supplier, avoiding differing opinions, or lack of data visibility during the approval process.
Step 7 - Integrate & Collaborate
Supplier onboarding is a perfect opportunity for your procurement team to set expectations, align on goals, and set targets together with suppliers.
An automated supplier onboarding process can leave a positive & lasting first impression and it begins the buyer-supplier relationship by establishing a culture of trust and communication between you & your supplier.
This is a culture you should build upon.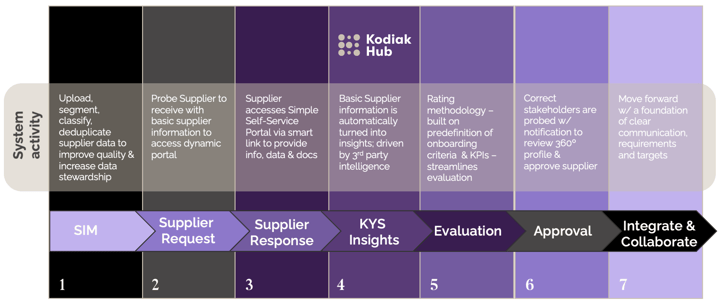 Don't just lean on tooling to automate supplier onboarding, but to manage the holistic supplier lifecycle.
Modern SRM solutions can aid to automate onboarding, but they can also aid to drive performance, manage contracts, drive collaboration and leverage your supplier relationships to their full potential:
Managing buyer-supplier communications

Sharing documentation

Providing a backlog of activities

Moving along the review process of corrective actions

Providing a reposit of collaboration in a centralized view.
Thank you for reading our eBook on the 7 Steps to Automate Supplier Onboarding: taking your SRM From Manual to Magnificent. If you made it this far we must assume you liked it?!
For more valuable content, go check out our other ebooks, blogs, case studies & our Linkedin!
Until next time!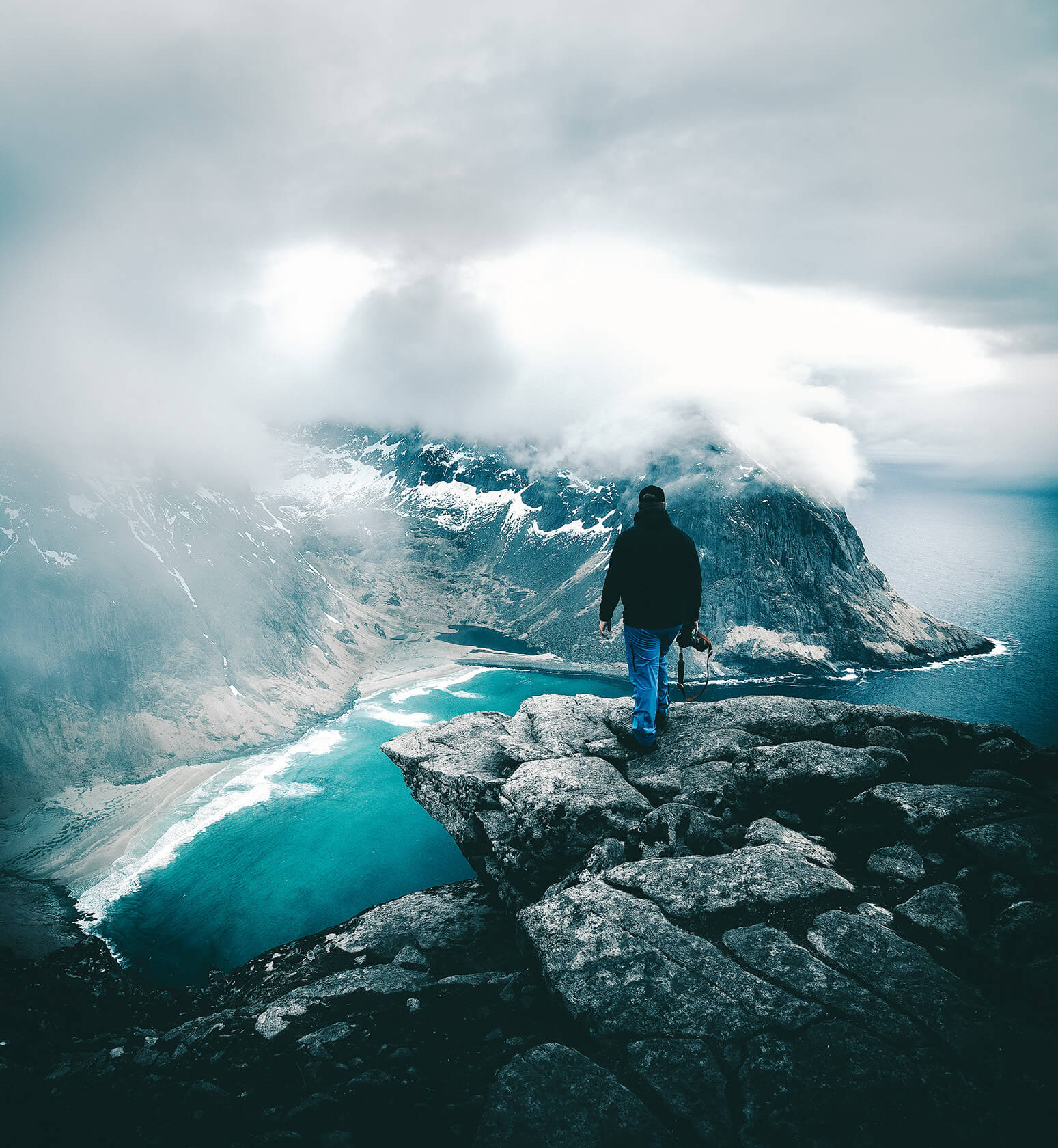 Kodiak Hub
Put your data-driven insights, ratings & analytics to use. Enable collaboration with the right suppliers at the right time to drive supply chain performance.
See all blogs posts