Last week I was signing up for a virtual tech event.
On the sign-up/submission forms for tech events, it's pretty customary that the event organizer gathers a bit of information about participants. I filled in my name, contact details, function, organization, business type (SaaS), and then I was asked to provide what software category my company existed within.
FinTech, MarTech, CRM, HRTech, and the usual suspects were optional selection values. As so many times before, my response was reduced to the insignificant label of 'Other'. I realized that there was no selection for a ProcureTech solution provider category to indicate that they, in fact, work in a domain known as ProcureTech.
Check out this post on why you need an SRM instead of a CRM for your suppliers.
This hasn't bothered me so much before. I've been a part of the journey at Kodiak Hub since 2016, and back then the ProcureTech category was in a rather different state. Sure, you had your big players in the market providing enterprise solutions & full-suites of S2P capabilities. Areas such as Spend Analytics, eSourcing, and Risk Management solutions were becoming more trendy, but there wasn't a true domain of best-of-breed ProcureTech solutions carved out, as we see in the present day.
So, I didn't just fill in 'Other'. I filled in 'Other' and then, in a semi-childish, semi-vindictive manner, proceeded to write to the organizers of the event. I was cordial and respectfully asked for them to consider populating ProcureTech as an optional selection for future participant submissions.
But, seriously, where was ProcureTech as a selection for the software category?
I understand that I'm surrounded by various communities that focus on ProcureTech, procurement, sourcing & supply chain management. My opinions about the importance of ProcureTech's recognition in the broader business world may be skewed, and that much I understand.
But, is it, in fact, possible, that the domain of Digital Procurement Technology so incredibly niched, and unknown to the broader business community that it's creating issues for procurement organizations within their ambitions for digital transformation?
Market Trends for ProcureTech
In a MarketWatch report, it was found that the "global procurement software market can thrive at 9.6% CAGR through the forecast period 2018 to 2023" (MarketWatch 2020). The market can expect to be evaluated at a $9.9BN industry in just 3 years time (Banerjee 2019).
Check out these stats from 2022 on the Procurement Software Market!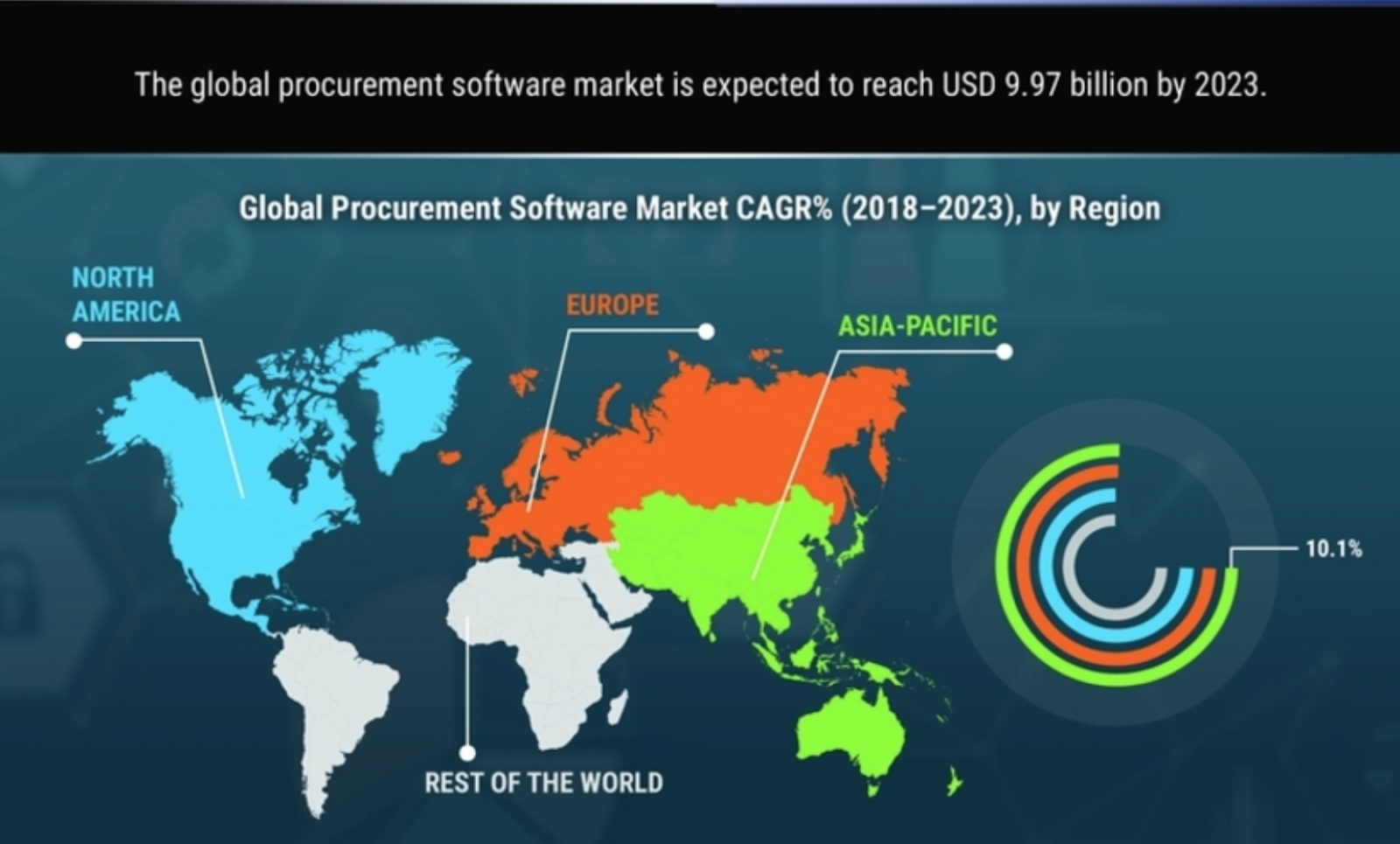 MarketWatch's report includes JDA Software Inc., Oracle Corporation, IBM Corporation, Coupa Software Incorporated, SAP SE, Infor Inc., Zycus Inc., Epicor Software Corporation, and Mercateo AG as some of the most prominent players in the ProcureTech global market.
With this being said, there are a plethora of start-ups, scale-ups and growth ventures that are providing best-of-breed solutions to the market, and they continue to pop up; strengthening the continued growth of this 'little known' software category. $500M of venture capital was invested in procurement technology startups over the past 5 years (Digital Procurement World 2020).
The image below illustrates the growing market landscape, best-of-breed solution providers, and further illuminates the many intricacies of the domain.
See Image below courtesy of Digital Procurement World.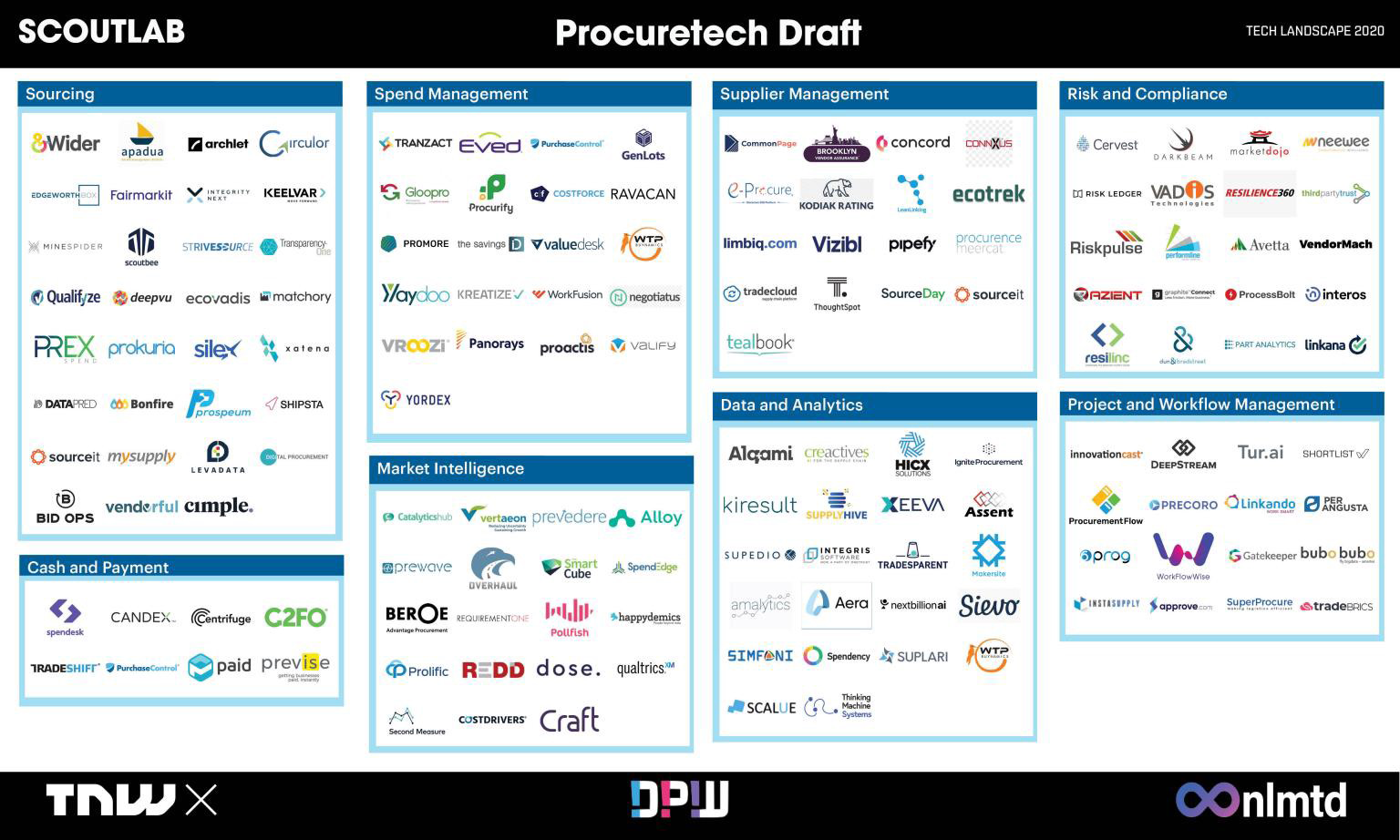 Source: DPW 2020
In a post-COVID19 world, the application of digital solutions within procurement functions could cause a spiked focus in the broader business. The ProcureTech domain offers various solutions for purchasing automation, maintenance of supplier data, risk management, supply chain visibility, spend analysis, supply management, and many other benefits, which have become increasingly important in today's business landscape, and could subsequently support an expansion of the market during the coming years (MarketWatch 2020).
But, if Tech event organizers don't even know of the potential impact ProcureTech harnesses, do your business leaders really know?
Lacking Notoriety may Lead to Lacking Budget
Some of CXOs biggest concerns today are safeguarding brand value, managing supply chain risks, and locating savings.
But, is your C-Suite leadership buying into the emergence and the needed application of ProcureTech? More importantly, do they recognize that procurement teams will require an expanded budget in order to digitally transform their current technology, processes, and strategy?
Procurement professionals know the value of modern applications of technology (AI, Automation, IoT, ML, etc.) provided by startups and scale-ups within the procurement software domain, but it's not certain that management always recognizes a need. Areas like FinTech and MarTech still have far grander significance in the business than ProcureTech, and this is reflected in market trends. A simple Google search of 'FinTech' gave me about 84,900,000 results whilst a search of ProcureTech rendered a measly 13,900 search results. More concretely, according to Market Data Forecast, the global FinTech market is expected to grow to $305B by 2025 with a CAGR of 22.17% between 2020–2025. "A new report collaboratively produced by BDO, WARC, and the University of Bristol, estimates that the worldwide spend on marketing technology was $121.5 billion in the year 2019 alone(Brinker 2019). The gap in market expansion and compounding growth between FinTech/MarTech, in comparison to ProcureTech, very clearly illustrates the lacking support of spending on procurement software within global markets at scale.
Procurement Leaders themselves are feeling the lack of organizational support, materialized in the lack of cash they have at their disposal to realize their digital procurement ambitions. Learn more about this in Procurement's Dirty Little Secrets.
It was reported in Ardent Partners CPO Rising report, from 2019, that budget constraint, lack of technology, and challenges in process/system alignment are viewed as the top 3 hurdles to achieving procurement objectives in the next 2–3 years.
This brings about the catch 22 of the century.
Objectives and expectations on procurement & supply chain organizations are ever-growing from management, but procurement teams feel as if they lack the alignment, tech, and budget to get them there.
Something's got to give.
Just like much digital transformation, and modernization of processes/strategies, the application of ProcureTech will eventually create a competitive divide between the believers and those who'd rather remain non-believers.
My suggestion; make sure that ProcureTech is something your organization is having a real conversation about.
Want to know How To Build Your Digital Procurement Ecosystem In 8 Minutes? Check this one out.
Until next time.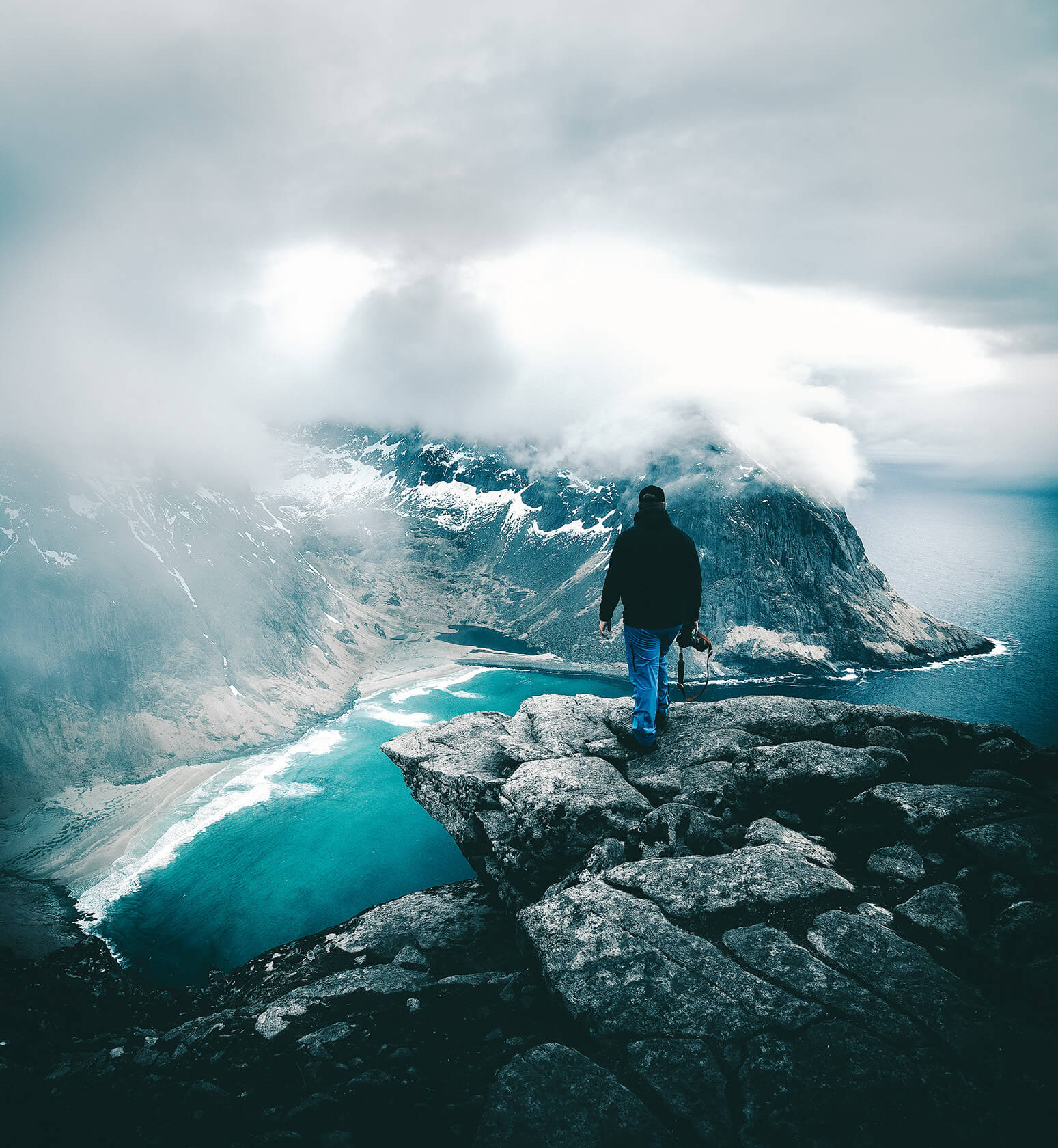 Kodiak Hub
Put your data-driven insights, ratings & analytics to use. Enable collaboration with the right suppliers at the right time to drive supply chain performance.
See all blogs posts