To start, I think it's important that we take a second to look in the mirror.
Many of you reading this today are working in procurement, sourcing, sustainability, quality, or supply chain functions.
Though you may not always feel like it, our team at Kodiak Hub truly believes that you hold some of the most powerful positions in the entire value chain.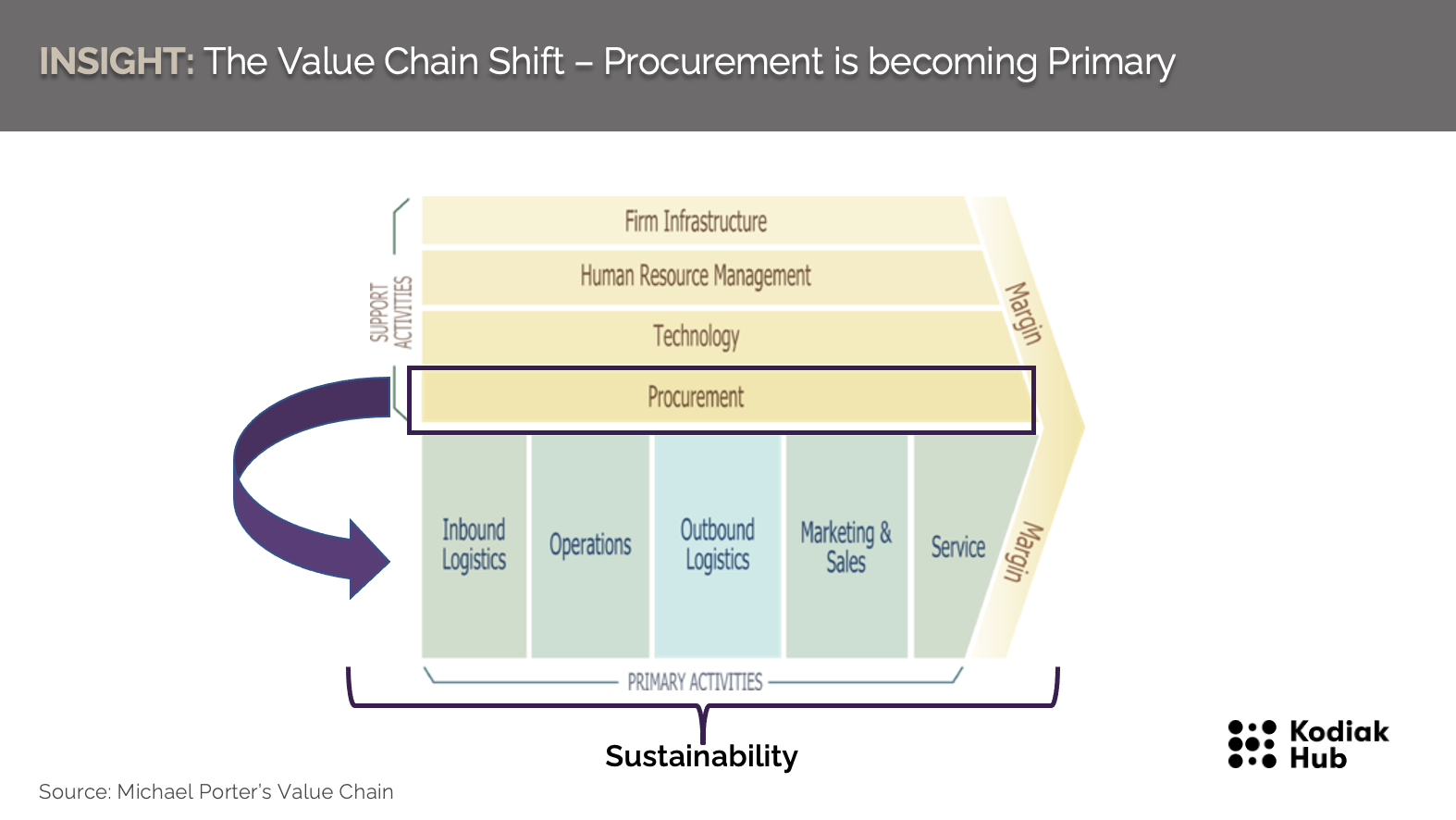 The classic Porter Value chain of the '80s is shifting. Procurement, sourcing, and supply chain are becoming increasingly primary functions. Sustainability has evolved from a business discipline to an integrated strategy — applied in the organization across functions— to realize social, financial, and environmental change.
I'll say it again, your functions are increasingly business-critical.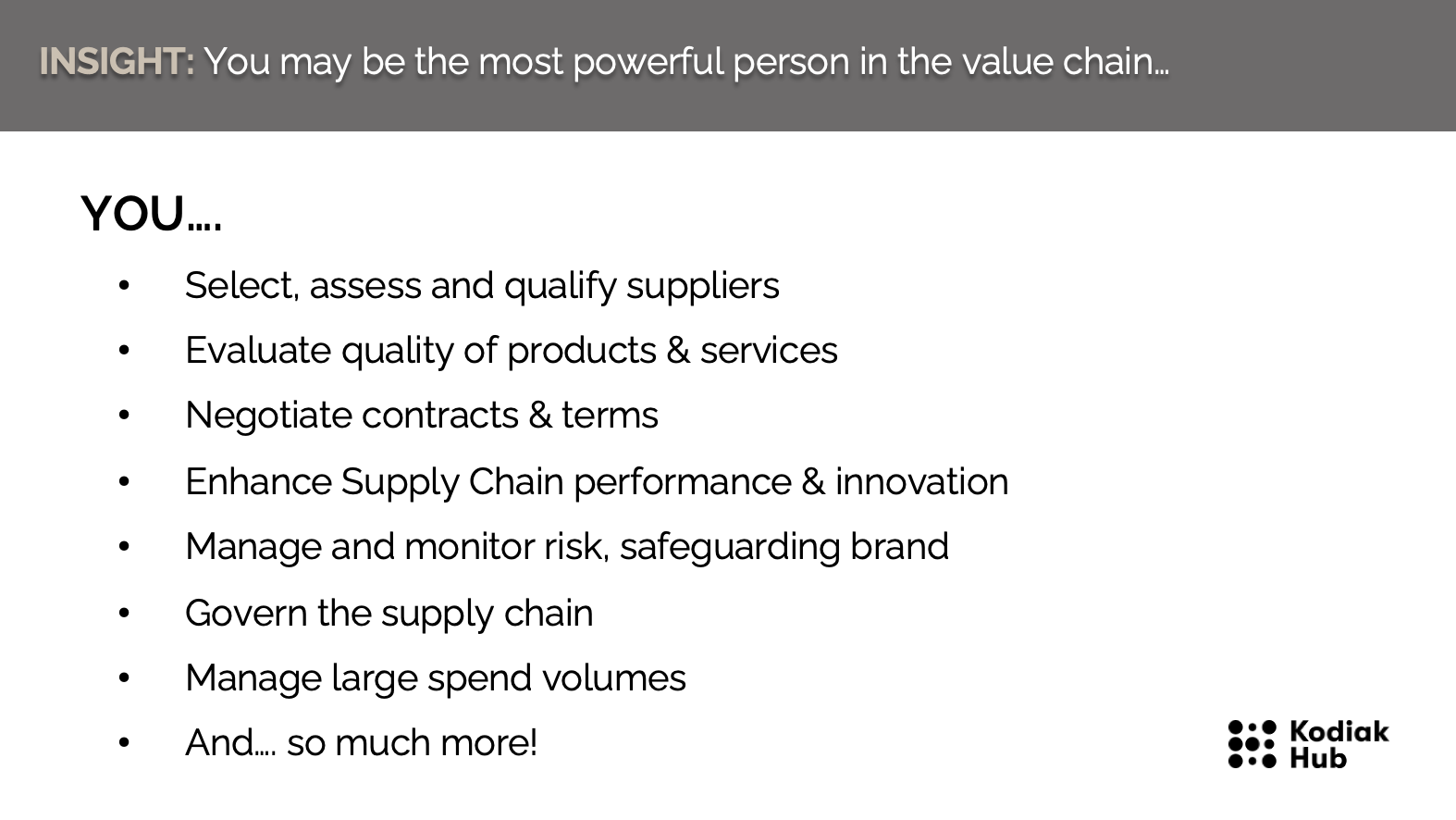 You select and manage suppliers, you ensure the quality of products & services, you safeguard brand value, you govern the many tiers of your supply chain at scale, and you manage the spend.
What I'm trying to say is, you hold a lot more influence in the organization than you may know.
You hold the spend. You hold the power. Every day, you make decisions that can create significant and scaling global impact. Every day, you can choose to make those investments with ESG in mind, or not.
There's a quote that I love by Miles Davis which I think is quite fitting;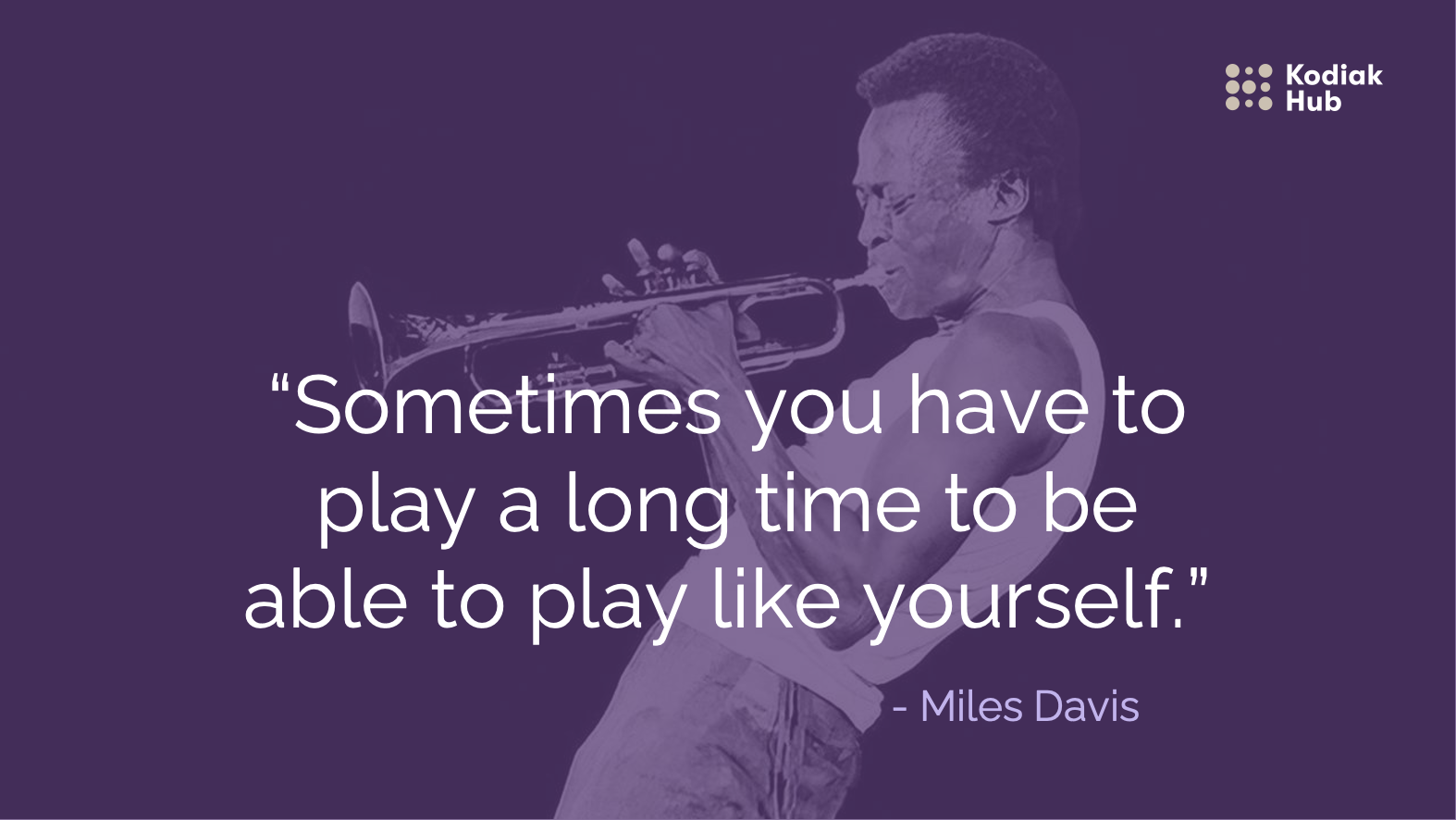 Let's start at square one; what is ESG?
Defining ESG can be complex considering the breadth and depth of the acronym.
I'm a fan of this definition by Investopedia:

ESG criteria help us look far beyond the bottom line. ESG investments are buying decisions deeply rooted in a more holistic view of value and value creation.
ESG is a discipline founded on the notion that a company is a living ecosystem and organism with a complexity far more nuanced than simply being a source of financial success. It suggests that environmental, social, and corporate governance factors have a significant impact on the overall value of a company; including risks to be mitigated and opportunities to be gained.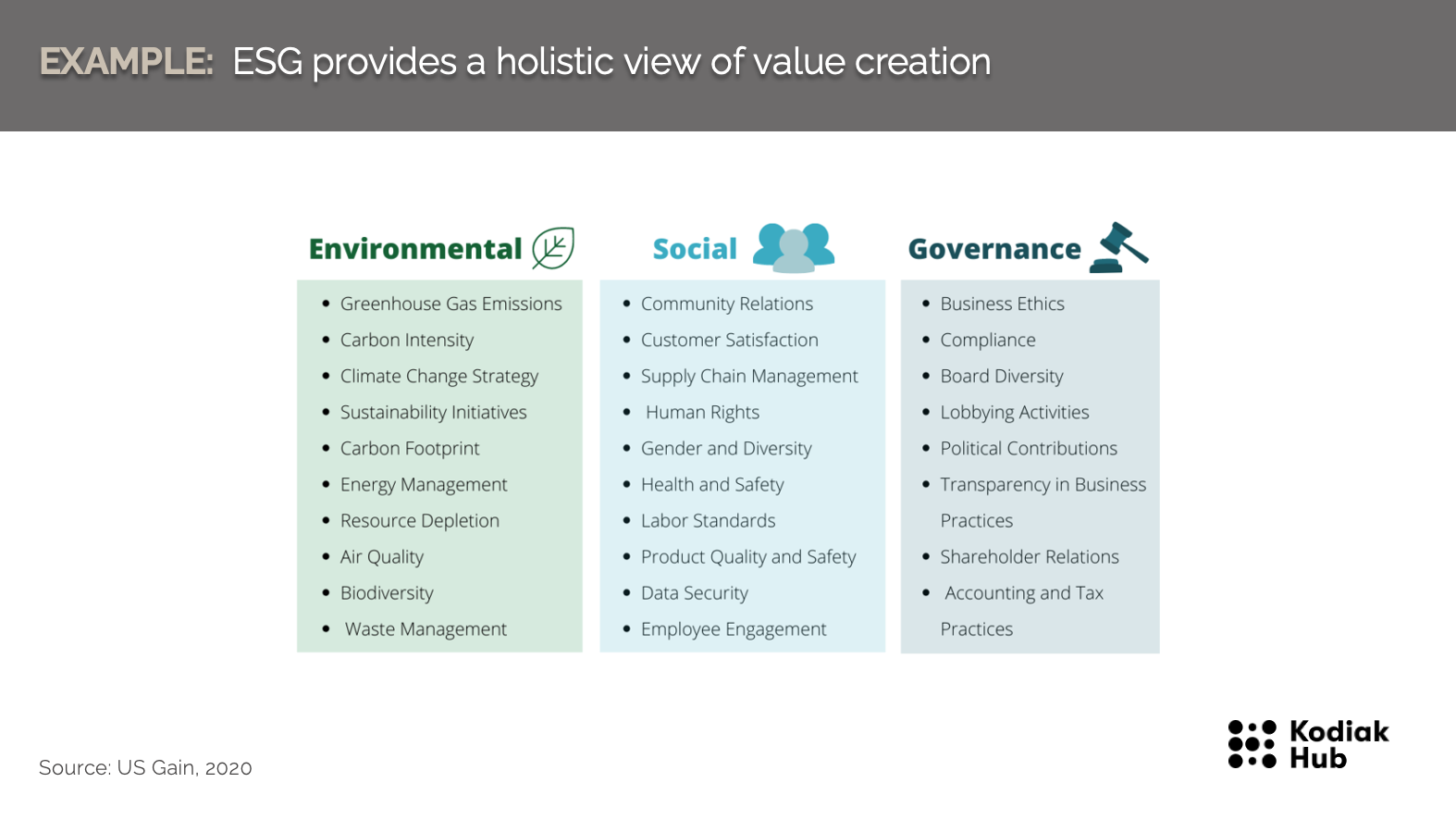 Employees, Customers, Communities, Shareholders, and Environment are the 5 pillars of ESG.
As put by Mike Walters, CEO of USA Financial."Identifying the impact, positive or negative, on these five stakeholders is what should become the measuring stick for quality ESG investment,"
To identify the impact of your corporate investments on these 5 stakeholders and ESG, simply… follow the money. This leads us on a path directly to procurement.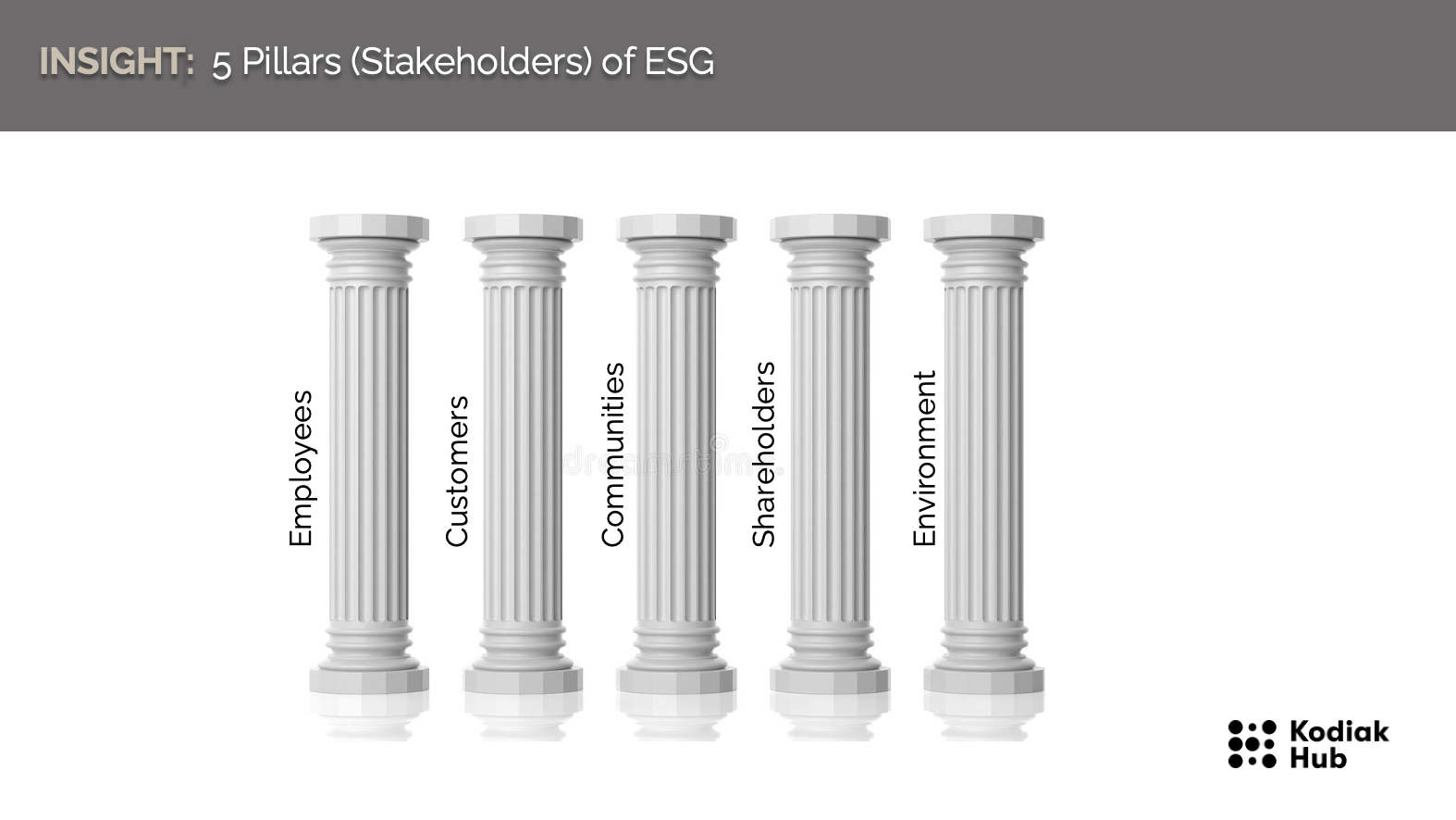 Procurement, as an industry, is committed to positive growth and sustainable development.
"According to the 2020 Ovation Pulse, 92% of CPOs remain committed to their long-term goals. This, they say, includes value delivery through supplier- enabled innovation (SEI); sustainability through environmental, social and governance (ESG) goals; as well as agility through digitalisation — all of which will enable the business to deliver on its growth agenda" (Procurement Leaders 2021).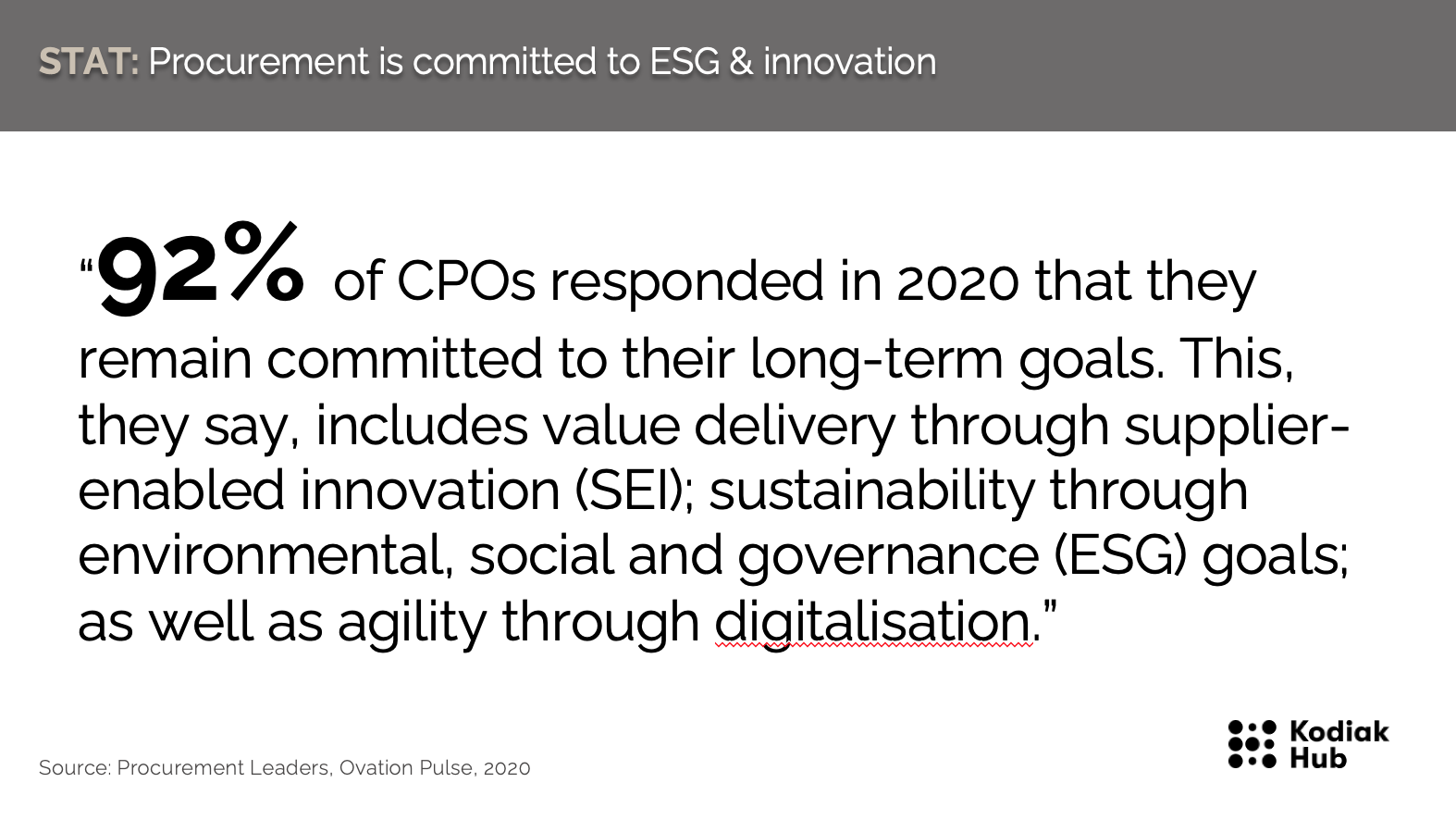 Commitment from procurement is a great starting point, but in order to truly deliver on long-term goals, procurement teams will need to shift priorities, sacrifice some traditional procurement methods, acquire greater transformation/technology budgets, build a culture that excites change, and adopt modern solutions as a means to speed up time to delivery on ambitious objectives.
Chief Procurement Officers' priorities seem to be changing with the times in order to further implement initiatives necessary to meet broader organizational goals. CPOs "gave supply chain sustainability a ranking of 7.2 out of 10, on average — an increase from 6.2 in 2020, according to Procurement Leaders' CPO Planning Guide 2021" (Procurement Leaders 2021).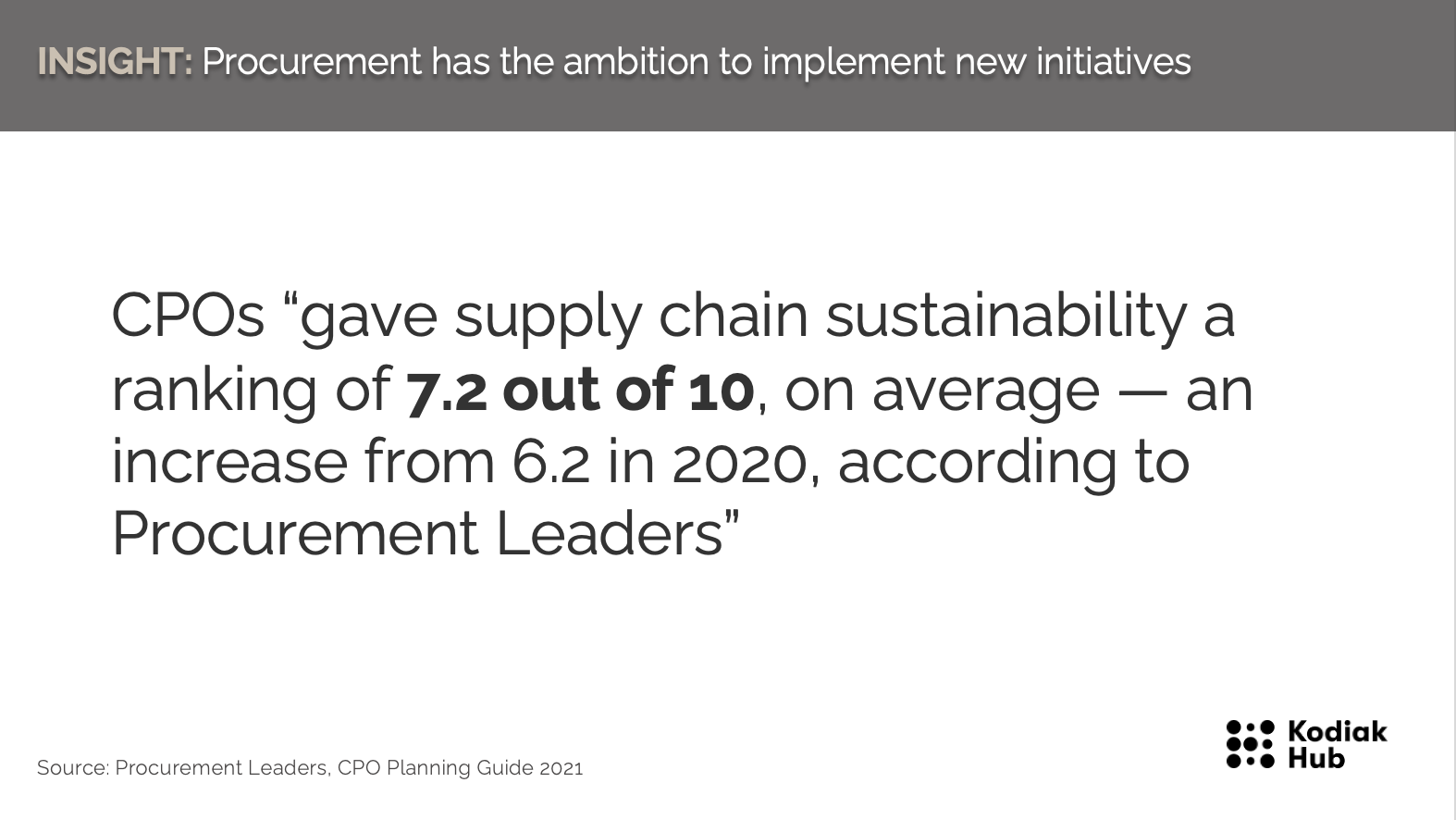 This is, yet again, an affirmation that procurement leaders understand the importance of being a role player in broader sustainability initiatives and sustainable development goals.
In 2022, following up on ESG metrics has transitioned from being the smart choice to being the new standard for global supply chains.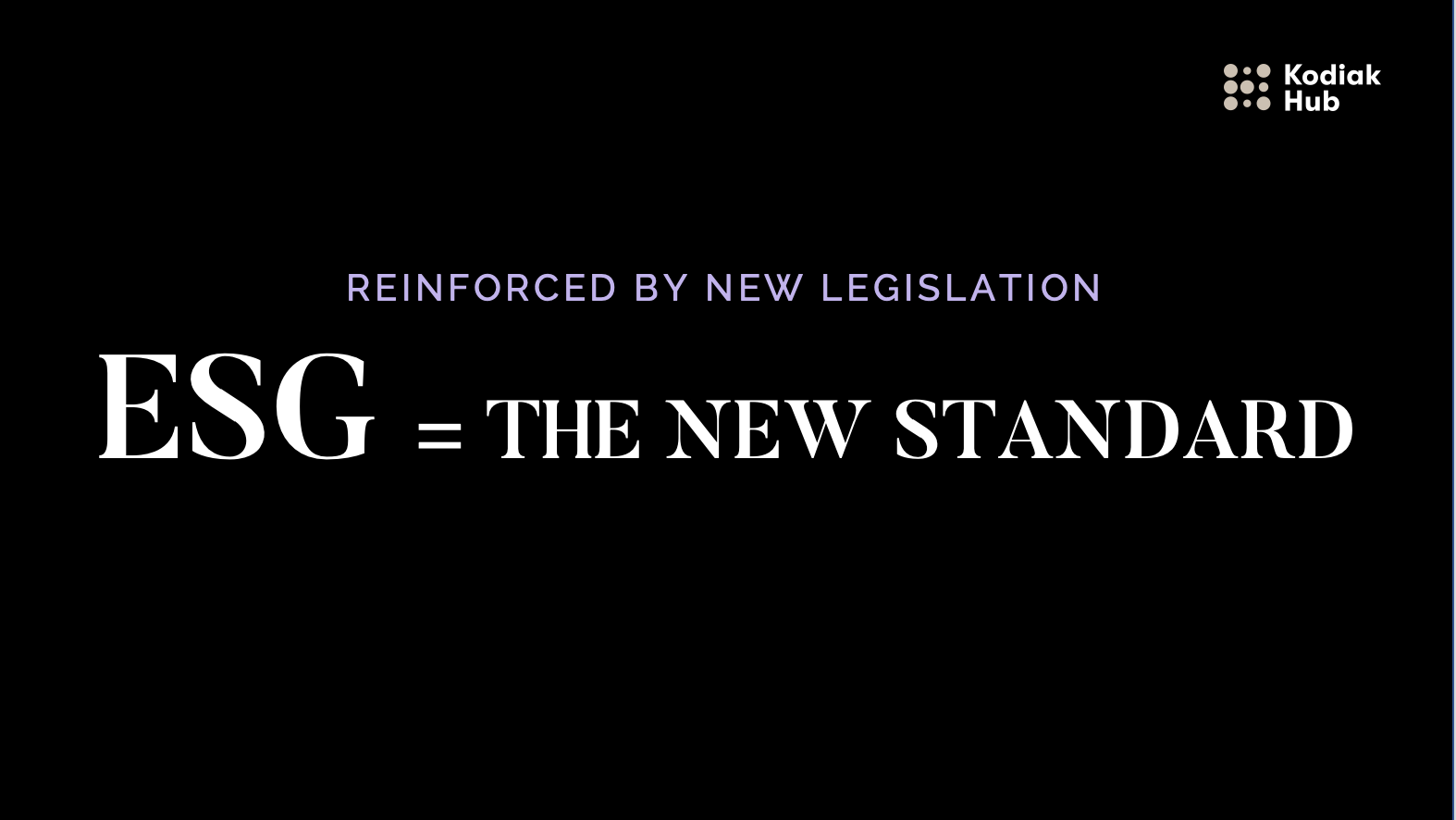 Sustainability is a macro trend, continuously being reinforced by concrete drivers of change. One of those that is the most apparent is emerging legislation.
As a result of the broader EU Green Deal initiative, we've seen a fair share of legislation being passed in just the last 3 years reinforcing a need to follow up on ESG metrics.
Some concrete examples are:
EU Disclosure Regulation: Passed in 2019 requires firms in the financial services sector to make strategic business and policy decisions regarding their approach to ESG which must be disclosed on the firm's website and in pre-contractual and periodic disclosures.

EU Taxonomy: Passed in 2020, provides a toolkit for assessing whether an investment is "environmentally sustainable" to ensure corporate entities in the EU are able to meet the ambitious goals set out in the EU Green Deal.

Liferkettengetz (German Supply Chain Act): Passed in 2021, puts Legal requirements on German companies to take responsibility for their global supply chains with enhanced due diligence, corporate governance, and to have a means for reporting upon violations within various social, environmental and financial criteria.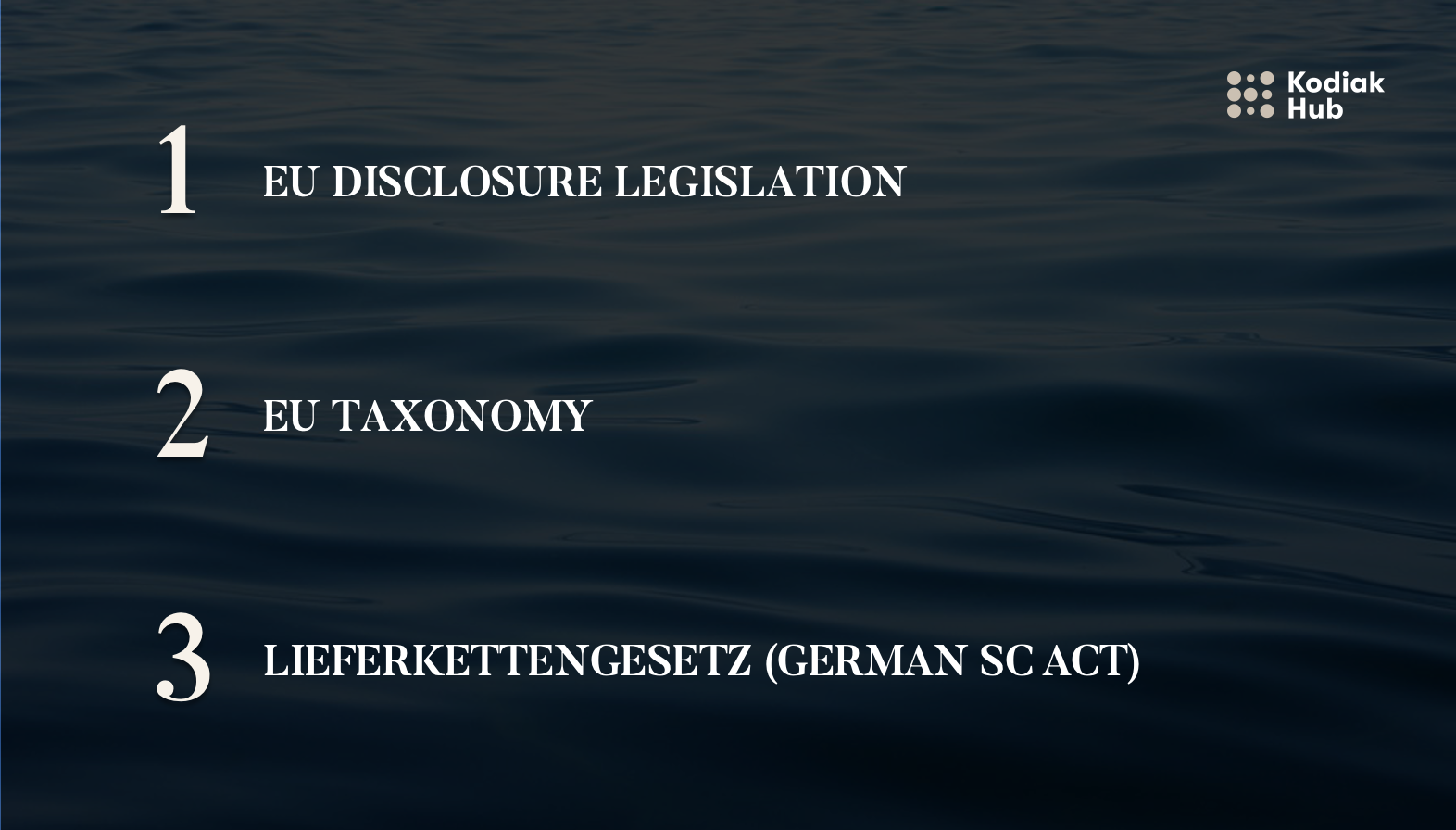 There is no doubt about the importance of ESG, or the commitment of professionals just like yourselves to make ESG synonymous with daily operations.
As the saying goes; You can't manage what you can't measure. What you can't measure you can't improve upon.
With that, our team at Kodiak Hub would like to offer you:
10 Tips to build cool & quantifiable ESG Assessments:
1. Clear CoC, Policies & Expectations
There's no reason to try and reinvent the wheel.
Criteria & content of your ESG Assessments should be rooted in international standards, domestic legislation, global legislation, and your own business-critical goals.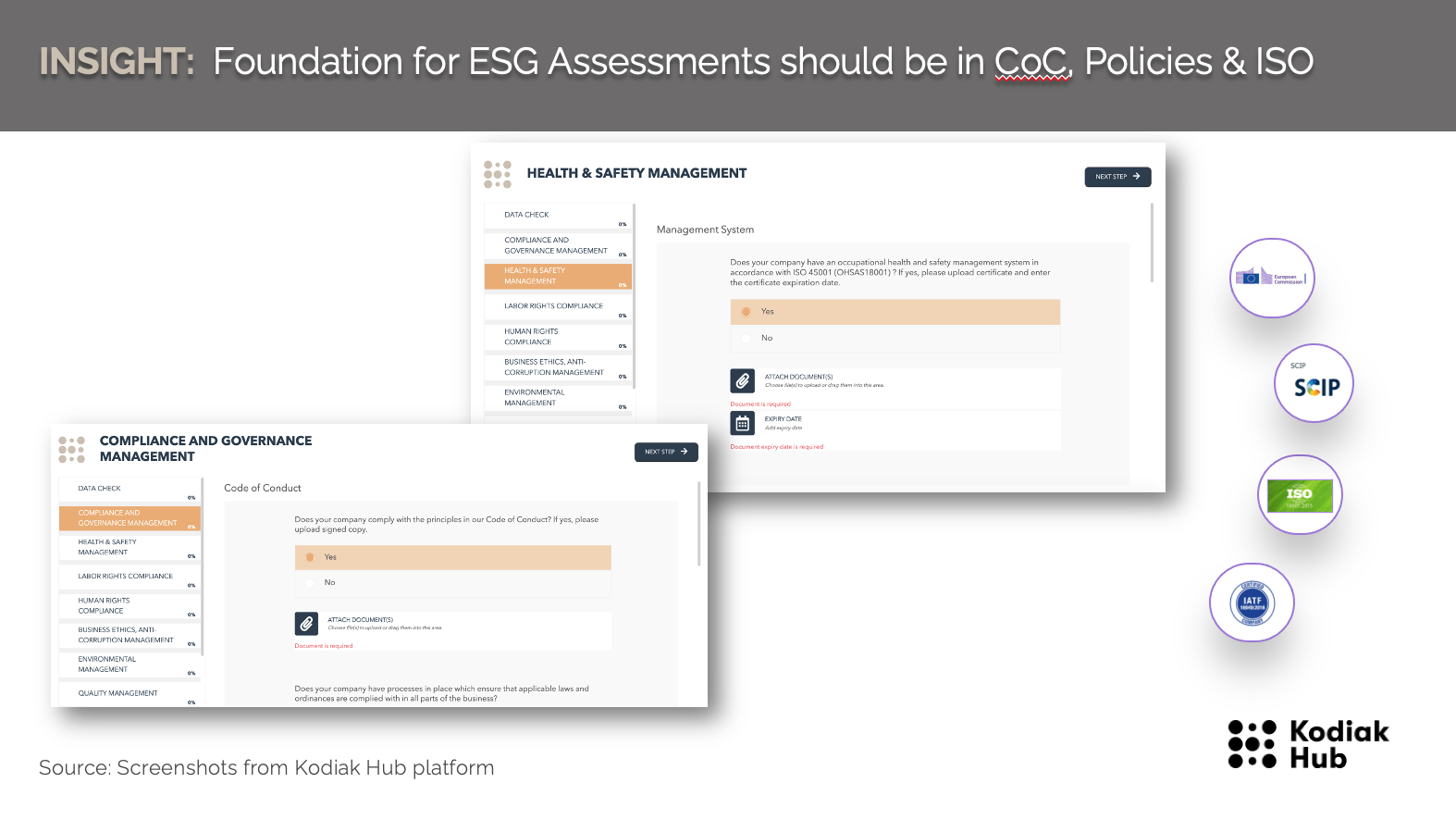 The starting point for any ESG Assessment should be your existing Supplier CoC, corporate policies, and the relevant ISO standards for your industry. This is no surprise to you I'm sure, but it's important to remember that there are an increasing number of requirements that new legislation, standards, and customer demands are putting into place.
As standards evolve, make sure that the requirements of your Supplier CoC and policies also evolve.
The foundation of ESG Assessments should be content pulled from your Supplier CoC and vice versa. Stringent guidelines, policies & rules aren't always the most fun way to start a collaboration, but it's a necessary starting point to ensure that you're encouraging sustainable modes of operation, prior to collaboration with new suppliers.
2. Work ESG into Onboarding/Pre qualification
As we just pointed out, it's important to ensure that you're encouraging sustainable modes of operation from the start of a new supplier relationship.
Making ESG metrics part of the criteria you address in onboarding or pre-qualification questionnaires allows you to immediately gauge the potential risks & opportunities that exist within a future collaboration.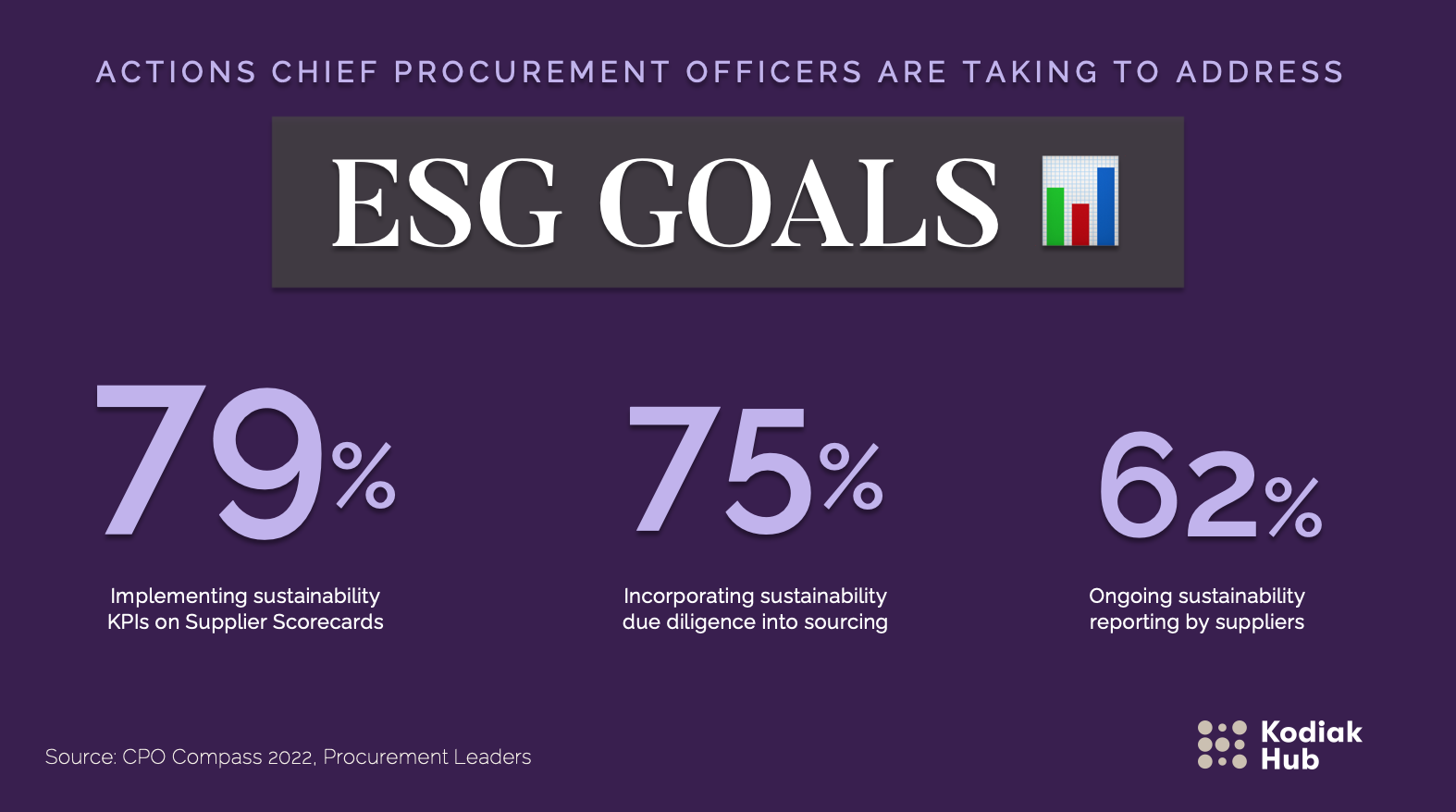 75% of CPOs responded to Procurement Leaders CPO Compass 2022 that one of the top actions they plan to take to address ESG Goals is to work sustainability due diligence into the operational sourcing process.
In the same survey, 79% responded that they plan to implement a wider set of sustainability KPIs on supplier scorecards and 62% responded that they plan to implement a more systematic approach to sustainability reporting from suppliers.
ESG assessment is much more than a check box. It's a means for evaluating metrics and allocating spend with suppliers that are able to uphold the standards that your stakeholders expect and deserve.
To make sure ESG Assessment becomes much more than a checkbox, you need to make sure you're able to turn supplier information into intelligence, so you have the means to turn that intelligence into improvement.
3. Make Assessments Multiple Choice
​​Designing 'good questions' is a pivotal element when utilizing assessments to their full potential. Content is the centerpiece of ESG assessment. Results obtained from suppliers will be contingent upon the quality of the questions, and the way you approach and formulate these questions.
Start by asking yourself; 'why are we asking this question?'
Focus on asking questions that can be used to drive performance towards a desired goal or improvement. Questions should reflect and be relevant to something you would like to measure and should — in some way or another — be a proponent of your business goals and your organizational KPIs.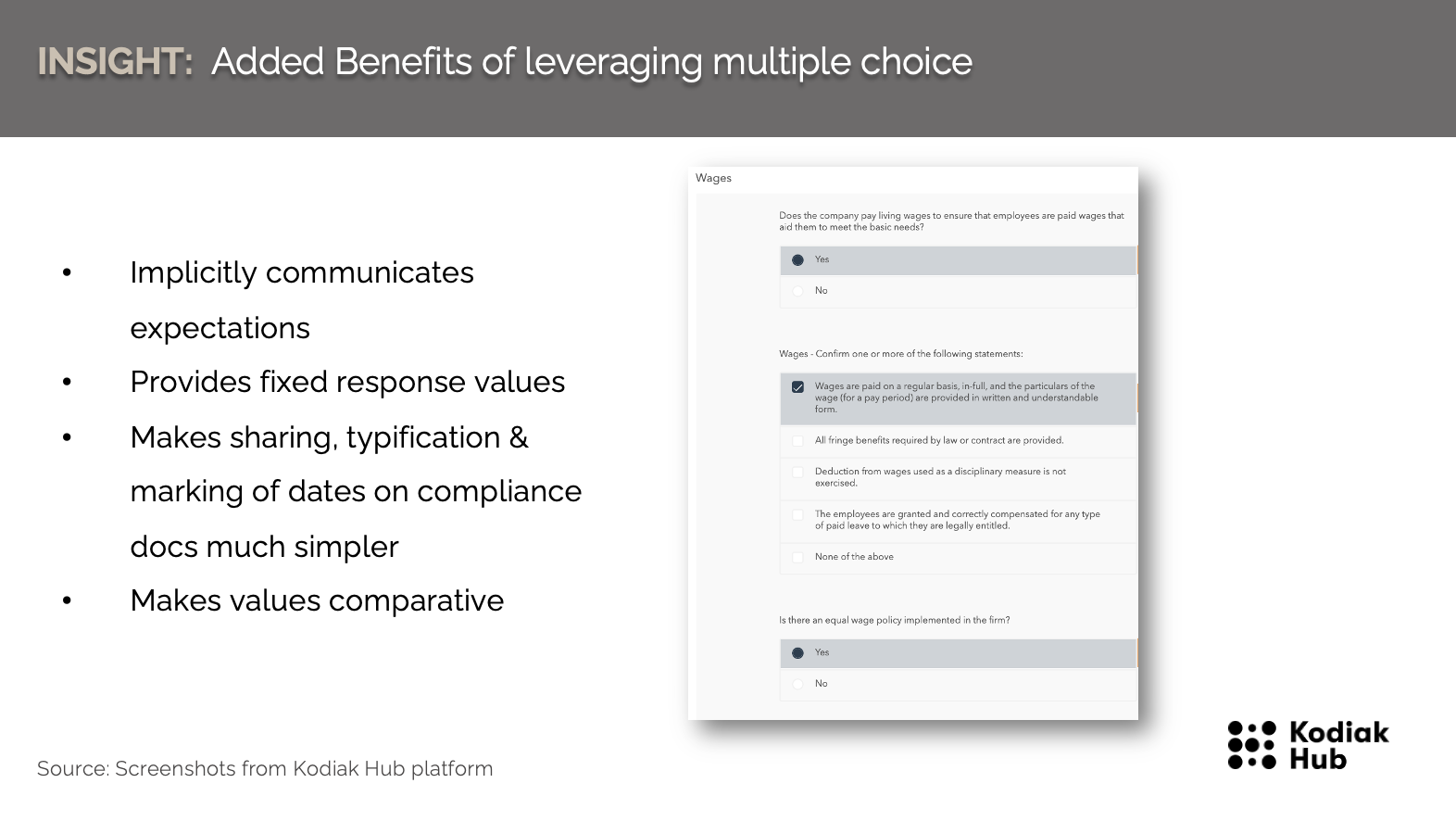 Utilizing Multiple-choice methodology as a basis for your assessment questions provides respondents with fixed answers. Providing multiple choice implicitly communicates your expectations to a supplier. Yes/No compliance-based questions can be valuable where it is very clear which requirements are to be met (for example, signing a CoC or uploading an ISO certification). Multiple-choice questions provide an embryo to turning qualitative responses into quantitative intelligence.
4. Adopt a Rating Methodology
Ratings offer procurement teams a simple buying traffic signal:
Stop and Investigate.

Proceed with Caution.

or Go for it.
Ratings make analysis and decision-making a bit simpler, but still, require your team to not leave their heads at home.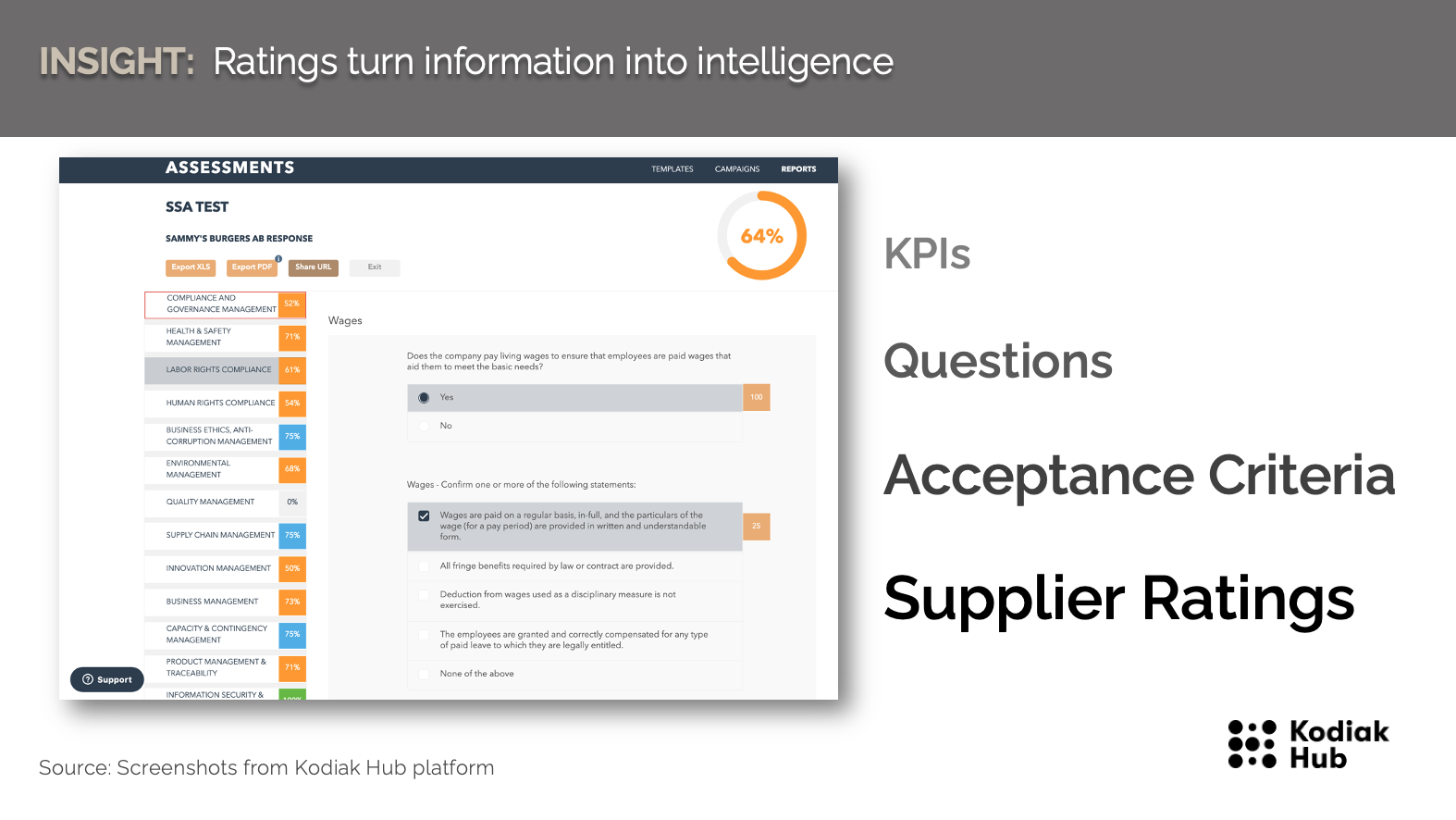 Building question sets and adopting a rating methodology requires first a definition of supplier KPIs and acceptance criteria for what is excellent, good, satisfactory, and poor. ESG KPIs should, of course, be unique to your individual company based upon your own industry, company goals, and corporate strategy.
Once you've determined your KPIs, questions, and response values, it's time to start assigning weights.
Simple 1-5 or a simple red, amber, green scoring are some easy first steps to building a rating framework. Kodiak Hub suggests utilizing a 0-100% scale to be able to provide a more nuanced rating profile.


5. Enable a Flagging Framework
Building a more holistic view of your suppliers by defining and assessing wide criteria of ESG KPIs will help you to spot risks and opportunities faster - especially if these assessments are building instant intelligence with a rating methodology.

With this said, it's important to have simple mechanisms in place that will help you quickly identify potential ESG risks.
Kodiak Hub's solution features a flagging system, and this should be something everyone implements into their ESG assessments. This provides your team with a simple way to highlight the importance of mandatory requirements and preset those sub-criteria to flag your attention when expectations aren't met to a satisfactory level.
Again, ESG goes above and beyond the 3 words within the acronym. A supplier could be excellent in 19 of 20 requirement areas, but the one requirement area where they aren't compliant could be a deal-breaker. It's nice to be able to spot these potential problem vendors fast.
6. Ability to communicate corrections & development
When you do spot a risk or opportunity, it's good to address it quickly.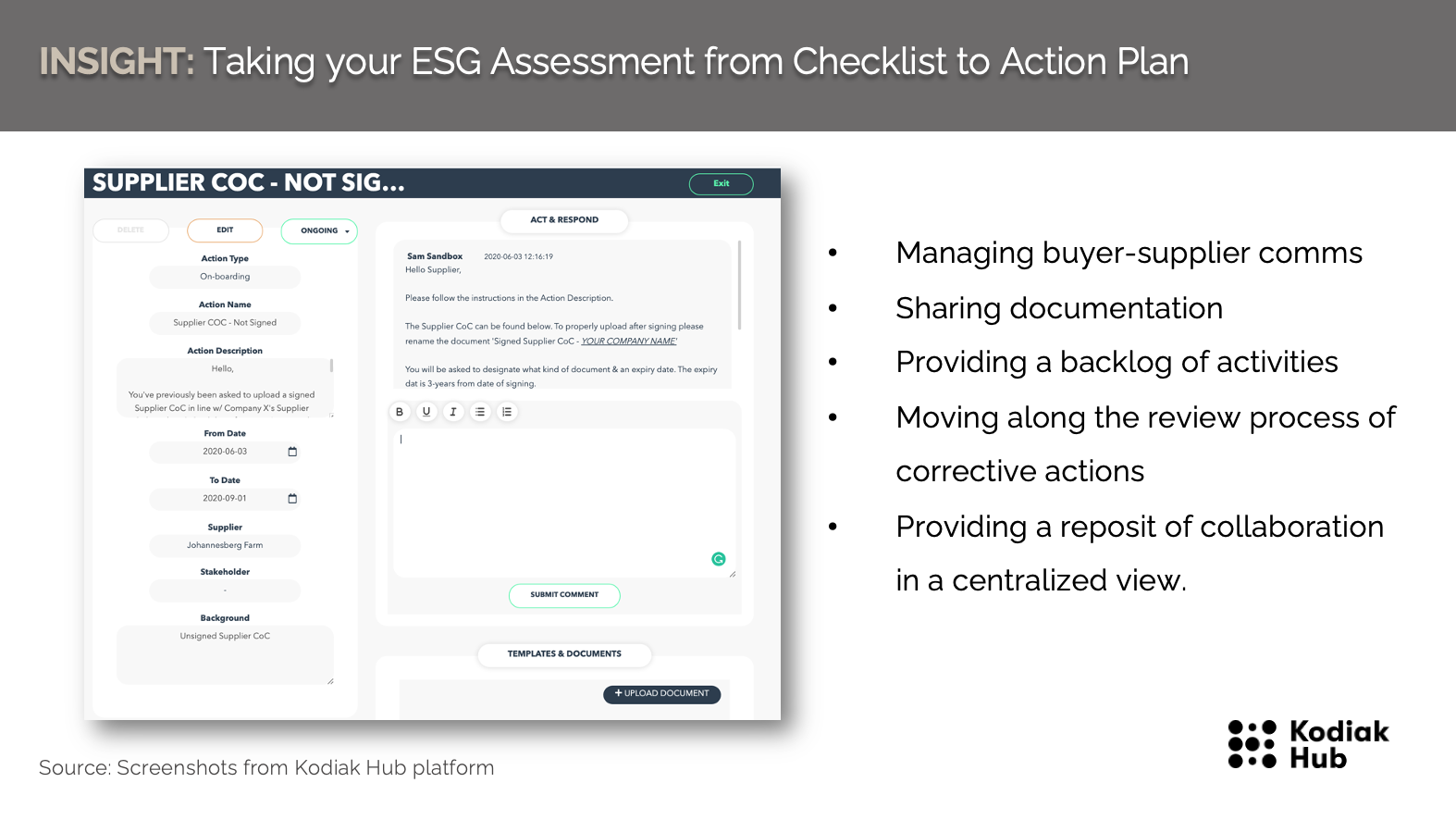 Assessing ESG is an important first step for more sustainable sourcing & procurement. Improving upon ESG is where assessment goes from a checklist to an action plan.
Kodiak Hub's solution features a collaboration space for managing corrective & development-focused actions, managing buyer-supplier comms, sharing documentation, providing a backlog of activities, moving along the review process of corrective actions, and providing a reposit of collaboration in a centralized view.
The ability to issue actions and reposit communication alongsideresponses & results of a supplier's ESG profile in supplier scorecards is an important feature to make responsible sourcing decisions more process dependent and less person dependent.
Tip #7 a hot button issue everyone should be thinking about
.
7. Supplier Diversity, it's time to do something!
Taken from the 2022 CPO Compass survey by Procurement Leaders, it was reported that
"Almost four-fifths (79%) of CPOs indicate they will seek to improve supplier diversity and inclusion by tracking their expenditure with Tier-2 diverse suppliers in 2022, while 62% plan to revise supplier selection criteria to enable more diverse enterprises to win business".
The majority of procurement teams Kodiak Hub has the opportunity to speak with on a daily basis are referencing Supplier Diversity as a main focus area for ESG reporting.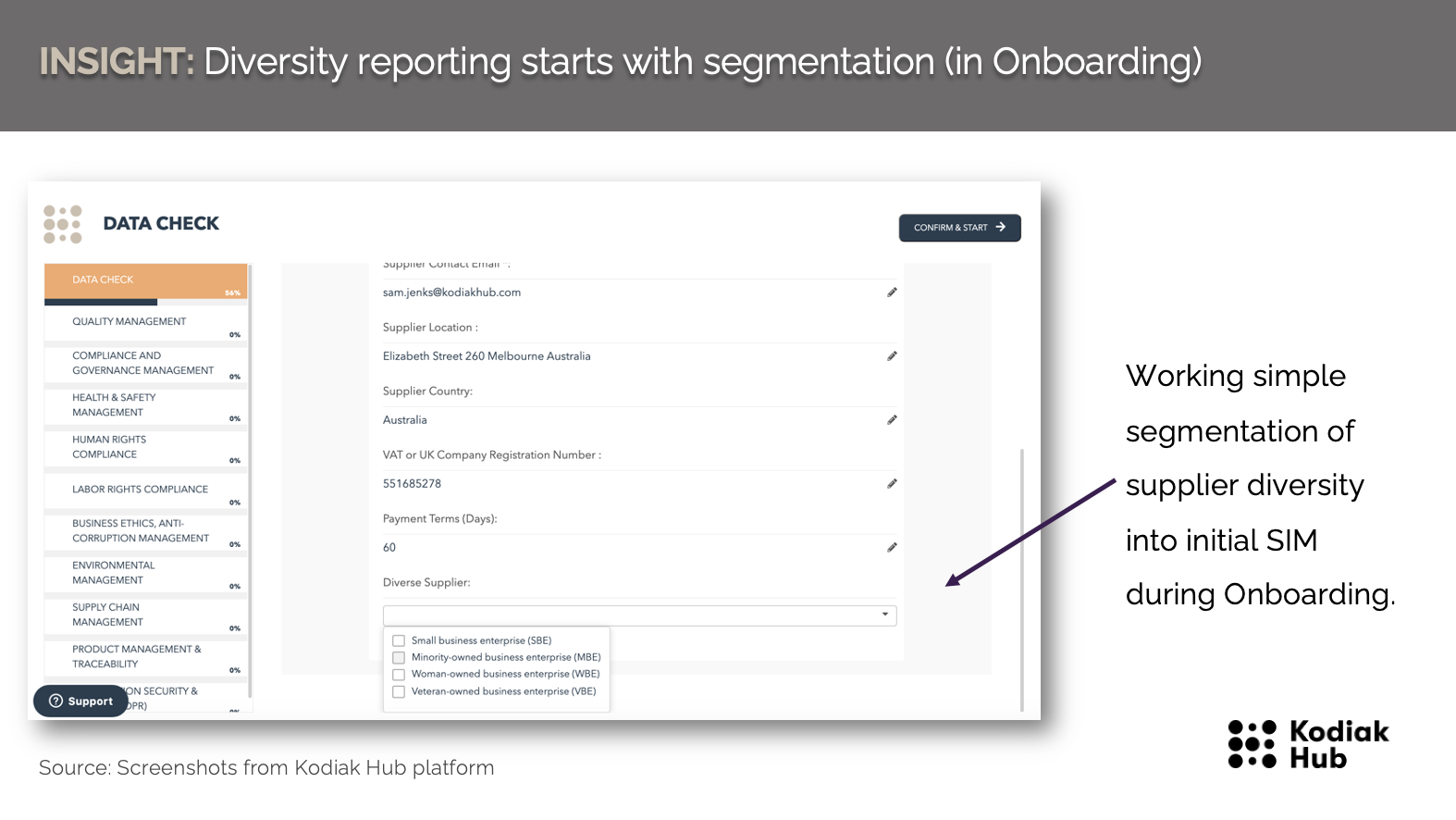 Supplier diversity starts with a better understanding of your supply chain. You can gain this by implementing simple processes to segment suppliers and leveraging this information to put supplier diversity programs into place to enhance inclusive spend and inspire diversity in your supplier organizations.
Some common examples of diverse suppliers would be small-business enterprises (
SBEs
), minority-owned business enterprises (
MBEs
), woman-owned business enterprises (
WBEs
).
"
Over time, the definition of diversity has expanded to businesses owned by other minority groups such as LGBQT, veterans, and proprietors with disabilities" (HBR 2020).
Inclusive spend, and "Supplier diversity benefits underrepresented businesses, but it also uplifts the communities where those businesses are located through job creation, increased wages, and tax revenue. (CVM 2019).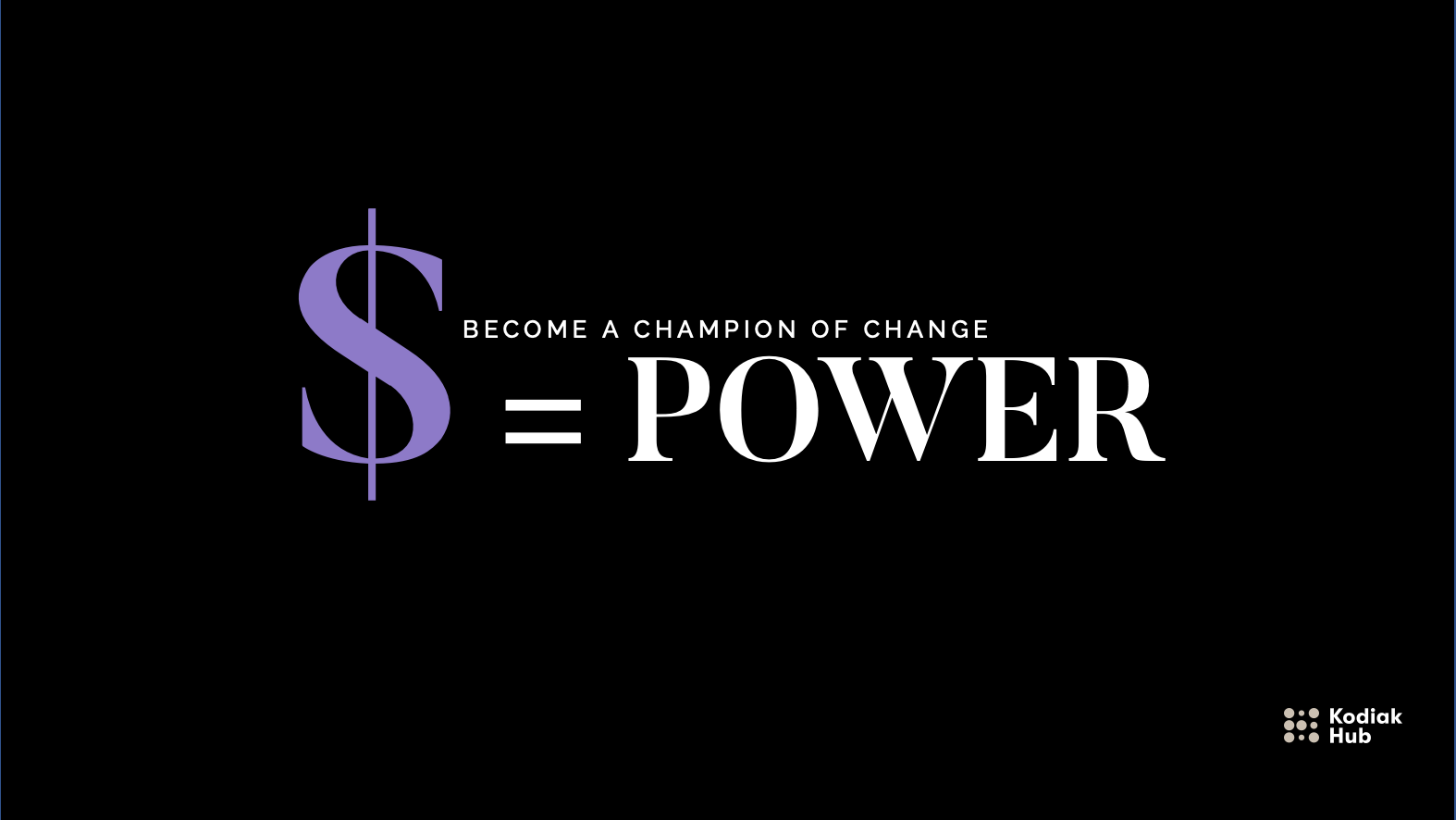 You control the spend, you control the power, you bear the responsibility. Identifying opportunities to empower diverse suppliers directly and positively impacts the 5 pillar stakeholders mentioned at the beginning of this session. Enhancing supplier diversity is really all about creating shared value & economic impact at scale.


8. Improve the Supplier Experience
Do you think that suppliers like receiving lengthy excel questionnaires, and various attachments in their mail inbox for onboarding and self-assessment questionnaires?
This question is rhetorical because we all know the answer.

If you're planning on putting your ESG Assessment under the lens, then it's important that we start ensuring that both parties (buyer and supplier) experience ease of collaboration. SRM software offers a means to address the Supplier user experience, which is equally as important as your own. If a supplier perceives a customer as one that's easy to work with, then chances are they will engage more in the collaboration.
Your success often depends on the willingness of a supplier to collaborate, report, and lean in. Make sure that your ESG Assessment removes the barriers standing in the way of supplier engagement & enablement. This can be something as simple as offering a sleeker supplier user interface in assessments, clear guidance in your messaging and expectation, status bars built into the user experience, or the ability for suppliers to quickly delegate responsibilities in their own teams.
9. Offering Supplier Value
ESG Assessments take time to develop. They also take time to respond upon.
The last thing you want is for your suppliers to be questioning the importance of assessments your team is issuing for a response.
When making cool & quantifiable ESG Assessments, make sure you're answering the question; how can I deliver value to my suppliers?
You have a great opportunity to ensure that Suppliers also gain value from their input on your ESG Assessments and reporting.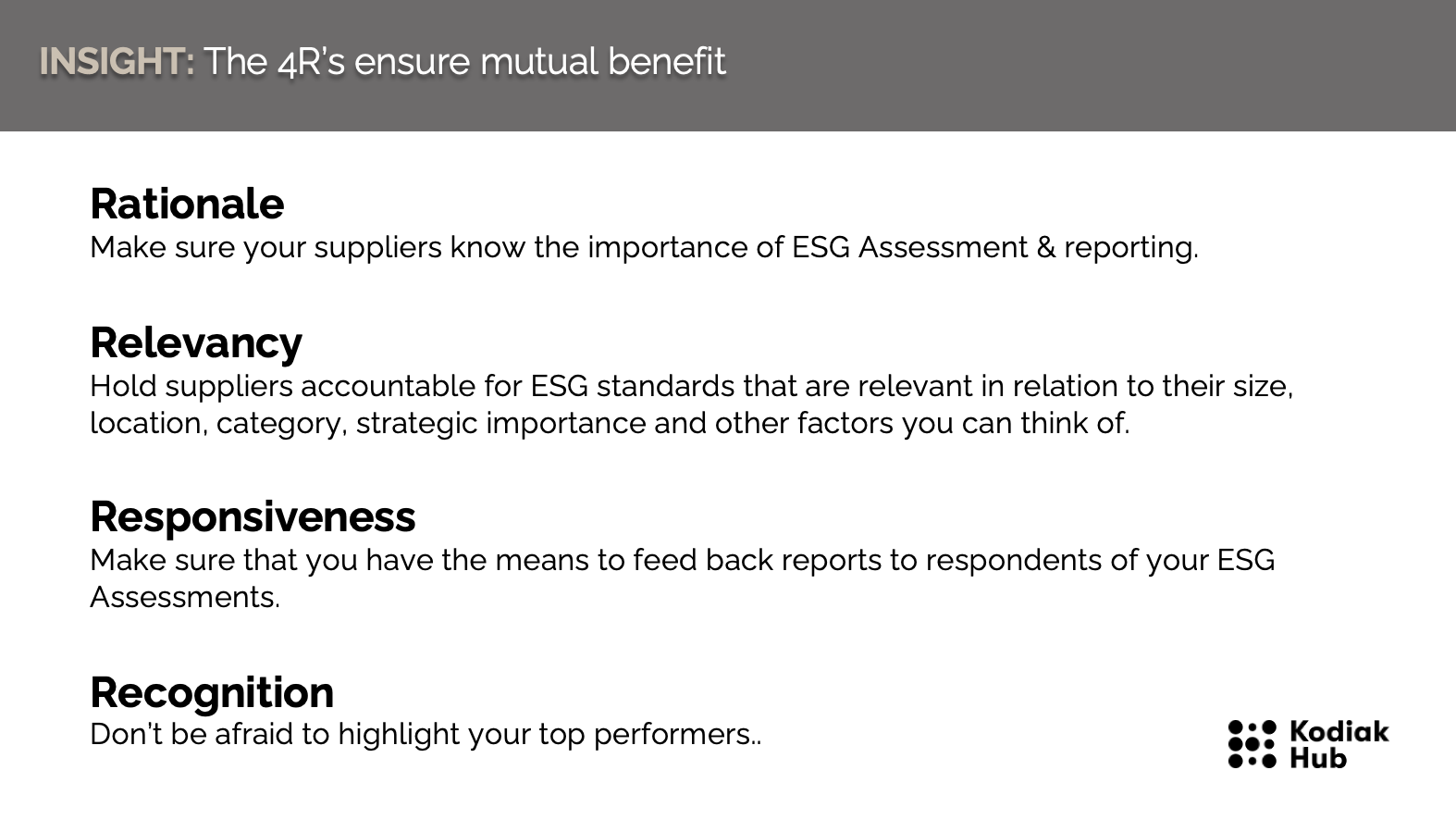 These are what we call the 4R's Rationale, Relevancy, Responsiveness and Recognition
Rationale
- Make sure your suppliers know the importance of ESG Assessment & reporting. Remind them, ESG KPI management isn't about you or me, it's about creating shared value and a new standard for supply chain sustainability.
Relevancy
- Hold suppliers accountable for ESG standards that are relevant in relation to their size, location, category, strategic importance, and other factors you can think of. IT suppliers shouldn't be responding to questions about REACH and RoHs, just like Packaging suppliers shouldn't be responding to metrics on LogJ4 security. Keep it relevant!
Responsiveness
- Make sure that you have the means to feed back reports to respondents of your ESG Assessments. Based upon their input have a right to know where they need to improve, and what they're doing well. This is where modern solutions can help with sharing of intelligence to suppliers.
Recognition
- Don't be afraid to highlight your top performers. Post about them on social. Highlight them in your sustainability report. Mention them or reward them during an annual supplier day.
Make sure that the value-added from ESG Assessment is reciprocated within your team and with your supply chain.
Moving into the final tip…
10. Separate Compliance from Performance
It's important to gauge a wide range of environmental, social, and corporate governance criteria in your ESG Assessments, but one thing you don't want to do is to start mixing together is business practices or levels of compliance with output performance and results.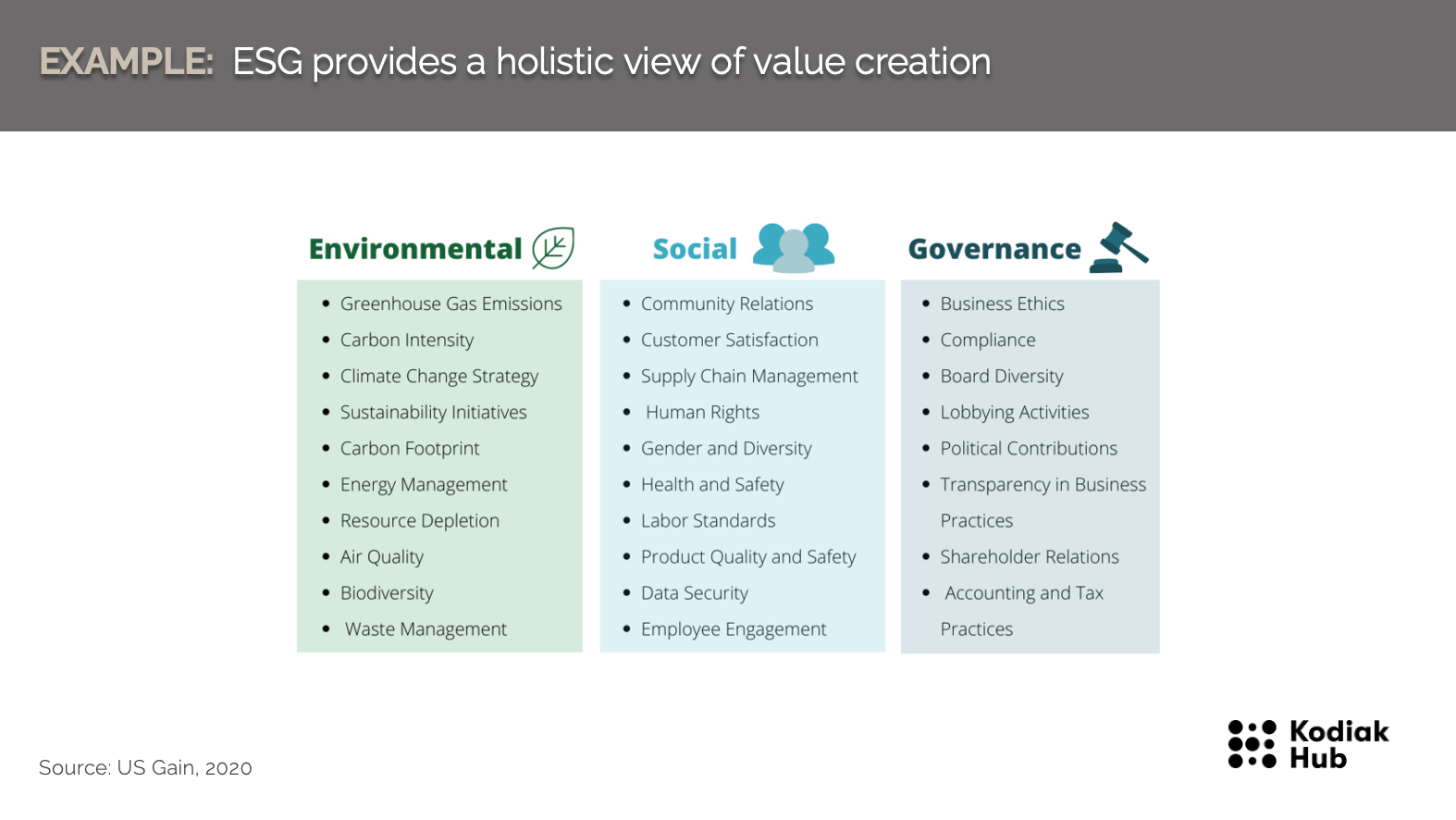 Having a supplier diversity program in place is very different from providing a breakdown of how much of a supply chain is in fact diverse spend.
Having a documented environmental management system in place is very different from actual figures on waste for water & electricity.
Compliance is one thing | Performance is another
Evaluating supplier performance is a crucial part of driving improvements upon business-critical KPIs such as delivery, price, innovation, and collaboration. It's also crucial to improve upon sustainable performance such as emissions, diversity, waste management, and more.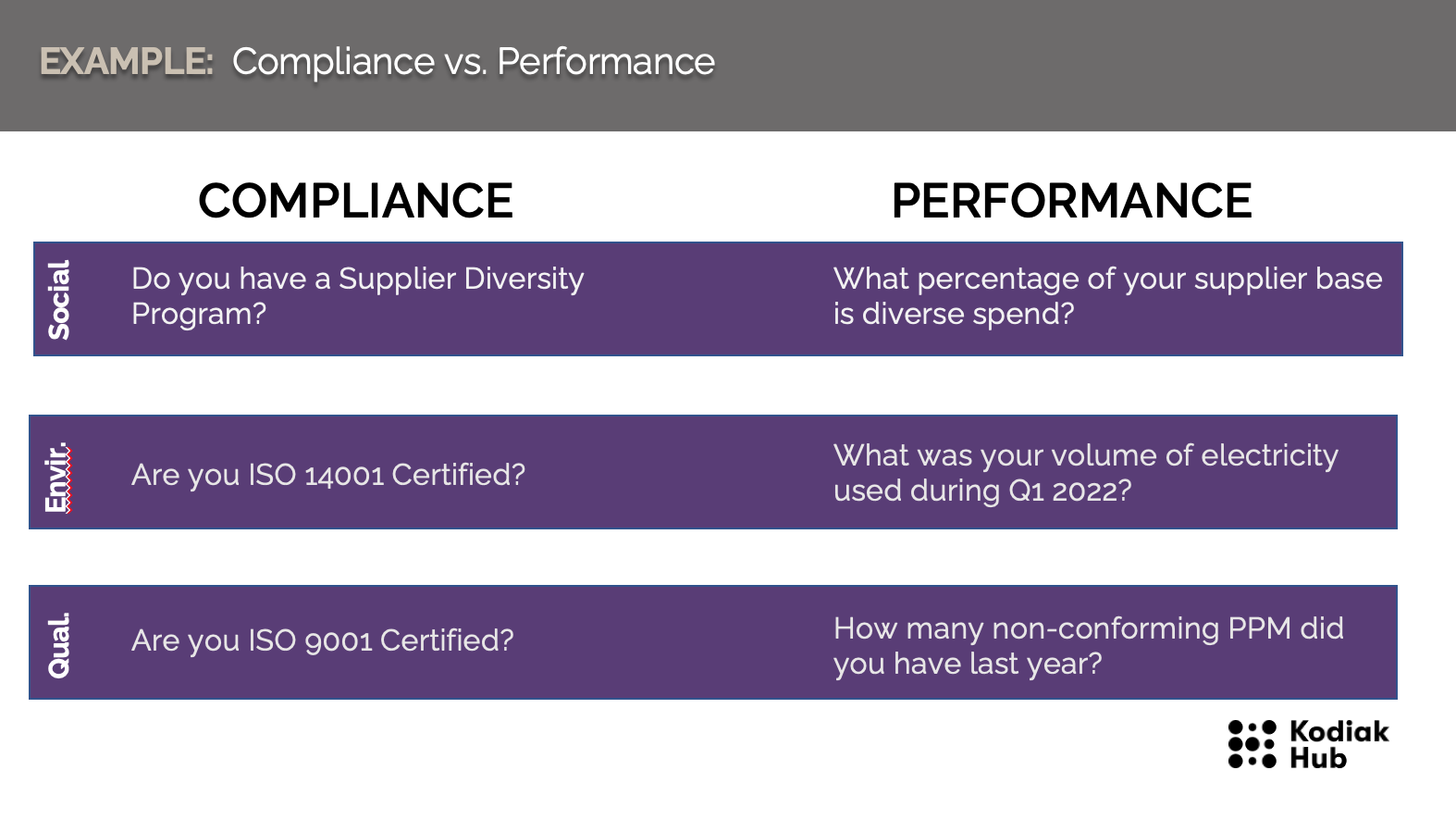 Kodiak Hub's solution leverages both ESG compliance & performance to help our users gain a holistic view of their suppliers in an aggregated rating profile but by compartmentalizing these two activities (in self-assessment and performance evaluation) we're able to offer users more granular analysis on supplier performance as well as levels of compliance.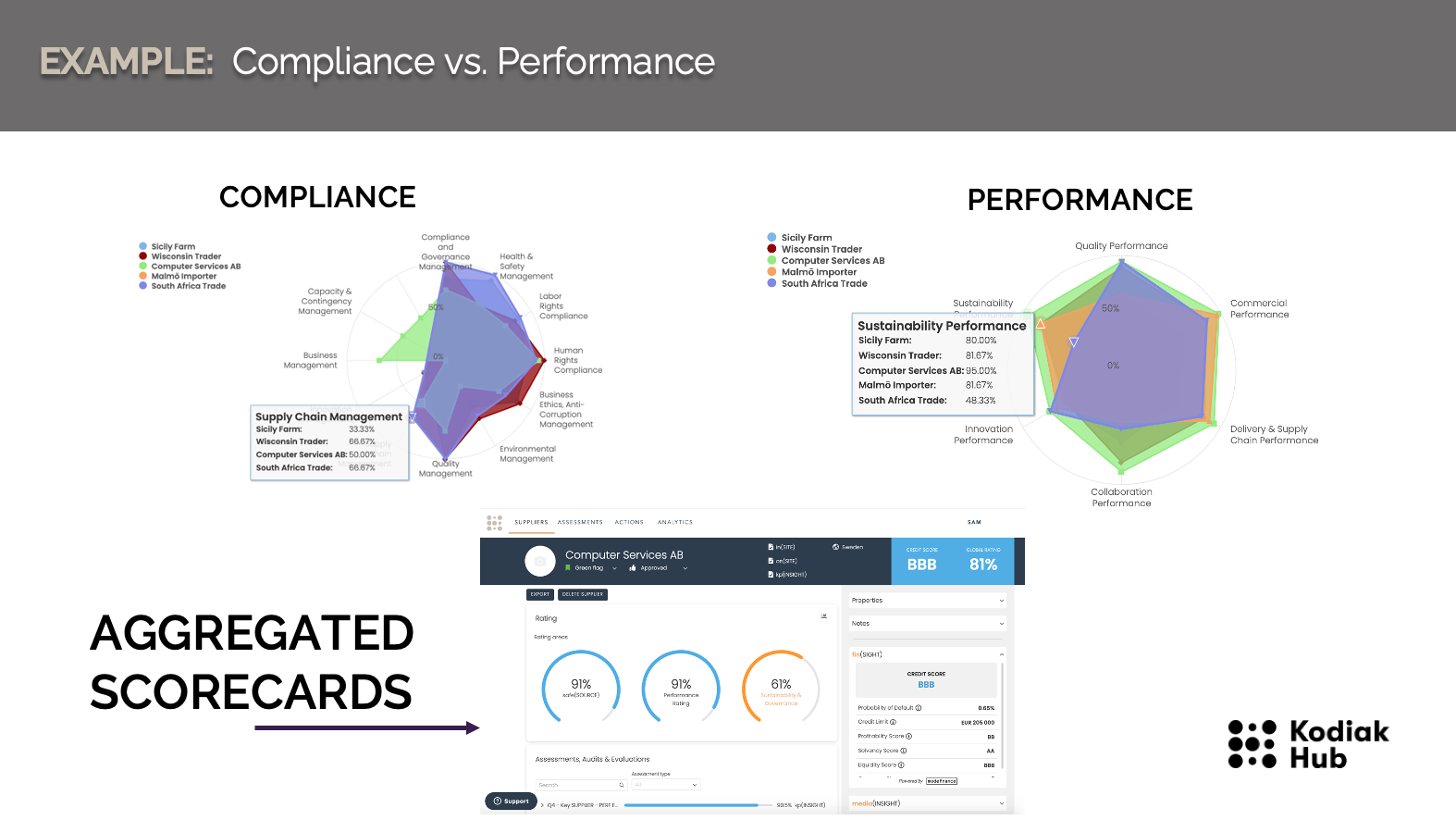 And there you have it,

10 tips to build cool & quantifiable ESG Assessment

, giving your procurement, sourcing, supply chain and sustainability team some inspiration to implement more sustainable procurement practices.
Hope to see you again soon!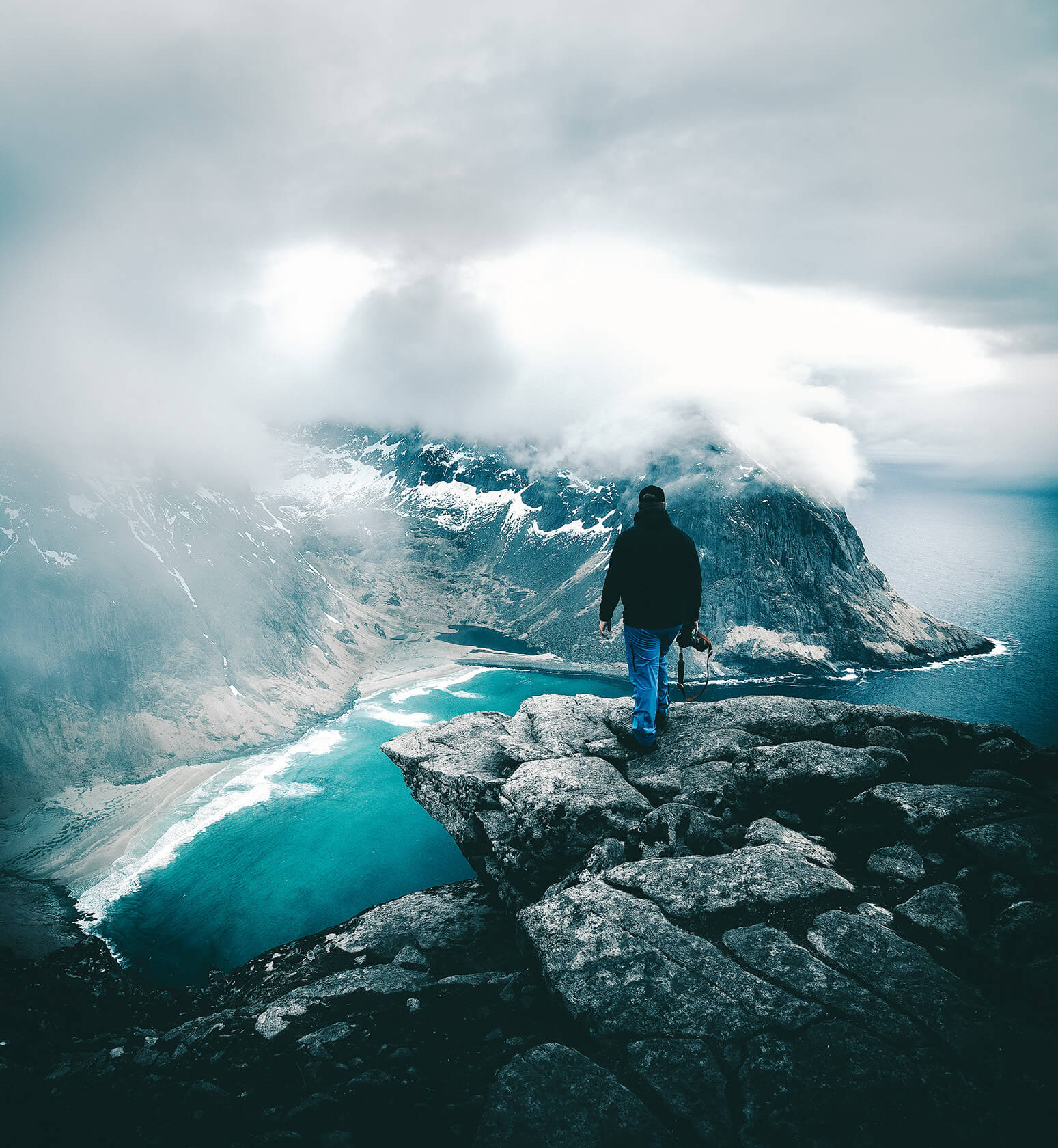 Kodiak Hub
Put your data-driven insights, ratings & analytics to use. Enable collaboration with the right suppliers at the right time to drive supply chain performance.
See all blogs posts